GooSayTen Butoh Performance 2012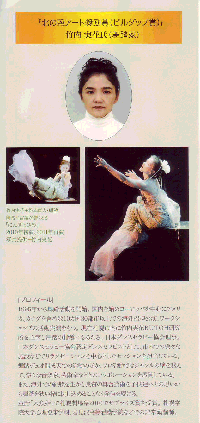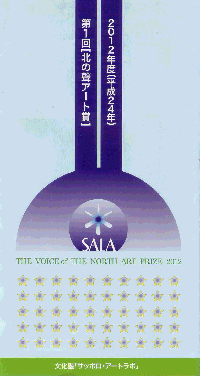 We had 3 intensive Butoh workshops in 2012 in Sapporo, Japan. Howeber, both Itto (psychologist) and Mika (dancetherapist) were very busy working for colleges and hospitals, based on Butoh therapy approach. Mika was also occupied with her studies and preparations for her Master thesis, missing several big performance opportunities, to our regret.

Mika was given "Kita no koe (North voice)" Art Prize (Nov.2, 2012) from Bunkajuku Sapporo Artlabo. One old distinguished sculptor got the first prize, Mika and a young artist got the second prizes.

And, Mika's butoh students below, such as Risa Chikita and Zamuko Gootama, were actively performing this year and becoming beautiful and dreadful butoh dancers with their own butoh dance styles, of which we are very proud.

---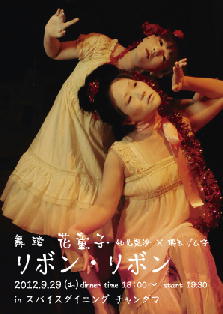 Butoh Hana Douji (Risa Chikita + Zamuko Gootama)
"Ribon Ribon"
Venue: Spice Dining CHANDAMA
Sapporo: Chuoh-ku, N3W7 Ryokuen Buil.
on Sep. 29 at 1800 (Dinner) : Butoh starts at 1930
2000YEN (with Curry Dinner)
Reservation: [by mail] TEL: 011-577-9487 (Chandama)
* No Cameras and Videocameras.


CHANDAM Homepage http://www.chandama.net/index.php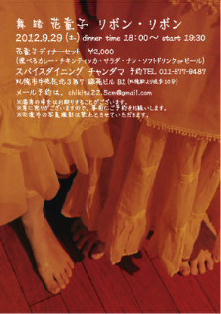 ---
GooSayTen Butoh Performance 2011
---
Hata, Kanoko Butoh performance
Taiwan July 26-30
Hirishima August 6-7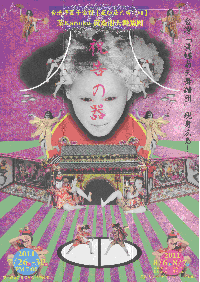 Mika Takeuchi Requiem Butoh
on July 25th
at Sapporo Hokko Church
with Finland string "kantele"
Check this in detail →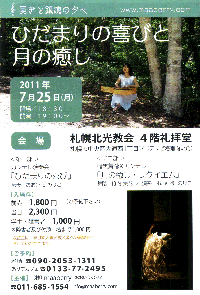 ---
Intensive Butoh workshops in Sapporo, Japan

WE HAVE CANCELLED THE FOLLOWING WORKSHOP
due to the disasters
by those gigantic earthquakes and tsunmai on March 11, 2011
(March 16th, 2011)
March 27th(Sun) to April 1st(Fri) : 6 days

[details]
---
Wishing a peaceful new year
amidst a crouching small world.
Itto Solo in Utrecht, Netherlands (2009)

Finger miniature butoh performance

YouTube (8 min) [bigger screen] (8 min)

Mika Takeuchi and S.Chino (piano) with
sumie drawings by M.Sugiyoshi (2010)

Butoh and piano improvisation at Sapporo PATOS

[Dreams for Two Nights] (1min54sec)

---
GooSayTen Butoh Performance 2010
Mika Takeuchi Butoh performance

[pictures]
[ video ]
Memorial event of 15 years anniversay
Mika Takeuchi started Butoh activities in 1995 by founding Butoh Dance "GooSayTen" together with Itto Morita. Since then, Mika, one of the dreadful female Butoh-ists in Japan, has been performing Butoh and collaborated with a variety of artists, performers around the world.
Mika is a certified dance therapist, giving Butoh related psychosomatic workshops at mental clinics and teaching Art therapy and Dance therapy at a department of clinical psychology in Sapporo.

Date: June 26(Sat) and 27th(Sun), 2010
Venue: Sapporo Kotoni "PATOS" (Tozai line subway)
for more information/reservation:

GooSayTen Butoh Performance 2009
50th Anniversary of Butoh Dance

- Butoh Performance 2009 -


"To the Flowers of Beginning"

Butoh: Itto Morita, Mika Takeuchi

Imei, ikura, Sayaka



[Ticket]
(Japanese)

Email us:


Data: March 8th (Sun) 18:00 (open 17:30)
Venue: Sapporo Kotoni " Patos "

Subway Tozai Line "Kotoni" station

*Go down by the elevator at the bus terminal.


50 years has passed since Hijikata originated Ankoku Butoh, and it has been proliferating in each country around the world. Itt Morita and Mika Takeuchi have been keeping Ankoku Butoh for 20 years in Sapporo for people who need the spirit of Butoh.
From April, Itto will stay and perform in the UK during 2009, and a couple of Butoh colleagues will start their new life in other cities. GooSayTen and Takeuchi Mika Butoh Unit "KA-EN" will dance "To the Flowers of Beginning". 

---

/Coopertation: Concarinho
/lighting: Masakazu Takahashi
/ GooSayTen Butoh Event
   


[poster]
---
"KAMA ITACHI" 2009
Eiko Hosoe Photograph Exhibition
of the Butoh Dancer "Tatsumi Hijikata"
Jan.21(Wed) - 2/20(Fri) at ART SPACE THISIS
Kushiro shi, Hokkaido prefecture
Tel/Fax 0154-22-2519
OPENING EVENT Jan.21(Wed)
Drum Solo performance: Shota Koyama

Talk: Eiko Hosoe and Yoshito Ohno

Butoh performance: Yoshito Ohno

A small coffee shop of jazz in Kushiro... Kazuo Ohno, Yoshito Ohno and Akiko Motofuji (Hijikata's wife) and other Butoh dancers have performed at the small Butoh space for years.
On January 21st, the death day of 1986 of Tatsumi Hijikata, Yoshito Ohno performs and talks with Hosoe about Hijikata and Butoh at Art Space THISIS. They all have loved the place and the owner, Azuma Kobayashi. Send FAX to THISIS for detailed information.

GooSayTen Butoh Performance 2008
BUTOH EVENTS:
2-Week INTENSIVE BUTOH WORKSHOP in Sapporo!
From April 14th to 27th (finished.)
[Newspaper article of Butoh workshop]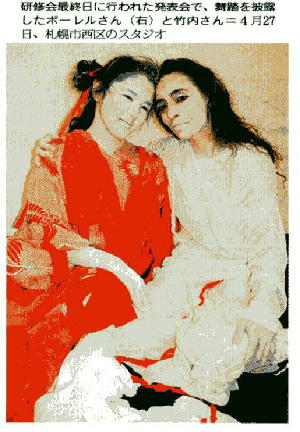 We thank all the participants to these Butoh workshops all the way from U.S.A.,UK,France,Germany,Poland,Argentina, etc.
GooSayTen Butoh Performance 2007
Butoh and Violin at Sapporo LIB gallery Sep.16(SUN)
Mika Takeuchi Butoh dance live
with Violinist Chie Morimoto
Florigen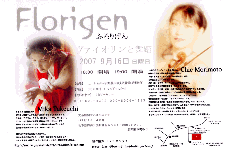 ---
GooSayTen Butoh Performance 2006
GooSayTen's New England PremiumTour 2006!


"To the White; To the Sky"

Butoh performance
at Zero Arrow Theatre, Boston (Nov.8)



at Boker Auditorium in Amherst (Univ. of Massachusettes) (Nov.9)





---


Into the light of Ankoku Butoh:
Butoh video & talk & Butoh live performance



VENUE Sapporo Sunpiazza Theater(Japanese)
(near from "Shin Sapporo" JR station and "Shin Sapporo" subway station of Tozai-line)


DATE September 29th (Fri)


PART1 13:00-15:00 Talk1, Butoh video1, and Butoh live performance1
PART2 15:30-17:30 Talk2, Butoh video2, and Butoh live performance2
PART3 19:00-21:00 Talk3, Butoh video3, and Butoh live performance3
The contents of three parts (talk, video and performance) will be different.

Talk Title


"Ankoku Butoh - current situations in foreign countries

and development toward dancetherapy"



By Prof. T.Kasai
Department of Clinical Psychology, Faculty of Humanities, Sapporo Gakuin University

Mika Takeuchi (GooSayTen Butoh dancer) and
"KA-EN" (Takeuchi Mika Butoh unit with Manami, Sayaka, Ikura)
will perform in the PART 3 !

contact: GooSayTen10th Anniversay Memorial Event
- Sunpiazza Theater's Cultural Event Support 2006 -


---
Mika Takeuchi Butoh Solo Performance
in "Ullambana" 2006

It will be adreadful Butoh in the very Obon season,
when departed souls are coming back...
August 12th (Sat) Open 19:00 / Start 19:30
August 13th (Sun) Open14:30 / Start15:00

Sapporo Concarino Hall
Hachiken 1-1, Nishi-ku, The Tower Place 1F.

Reserved ticket 2,500yen / on the day 3,000yen
Student reserved ticket 1,500yen/ on the day 2,000yen


See Concarino WEBSITE (Japanese) !
*A couple of contemporary dancers will perform in their turns.

GooSayTen Butoh Performance 2005
Mika Takeuchi with her Butoh disciples, Satomi and Manami



A Butoh Night at Sapporo Gakuin University Campus, Sapporo
for 14th Convention of Japan Dance Therapy Association.

"

"To the sky, To the white"(Shiroi sora e)
on March 23-24 at Kotoni-PATOS, Sapporo, Japan 2005

Shoot the Works!(Japanese) presented by NPO Concarinho.








(C)Photographs by Katsumi Takahashi,2005 (from NPO-Concarinho web-site.)




*GooSayTen deeply appreciate Sua Urana and NPO Arteandando
for the Butoh events in Bilbao, Spain.
---