Late Roman Shield Patterns
Magister Peditum
This page last modified: 2 October 2012

127 units are listed as being under the overall command of the Master of the Foot:
12 Legiones palatinae:

Ioviani seniores
Herculiani seniores
Divitenses seniores
Tongrecani seniores
Pannoniciani seniores
Moesiaci seniores
Armigeri propugnatores seniores
Lanciarii Sabarienses
Octavani
Thebaei
Cimbriani
Armigeri propugnatores iuniores

65 Auxilia palatina:

Cornuti seniores
Brachiati seniores
Petulantes seniores
Celtae seniores
Heruli seniores
Batavi seniores
Mattiaci seniores
Mattiaci iuniores
Ascarii seniores
Ascarii iuniores
Iovii seniores
Cornuti iuniores
Sagittarii Nervii
Leones seniores
Leones iuniores
Exculcatores seniores
Sagittarii Tungri
Exculcatores iuniores
Tubantes
Salii
Grati
Felices seniores
Felices iuniores
Gratianenses seniores
Invicti seniores
Augustei
Iovii iuniores
Victores iuniores
Batavi iuniores
Bructeri
Ampsivarii
Gratianenses iuniores
Valentianenses iuniores
Raeti
Sequani
Sagittarii venatores
Latini
Sabini
Brachiati iuniores
Honoriani Atecotti seniores
Honoriani Marcomanni seniores
Honoriani Marcomanni iuniores
Honoriani Atecotti iuniores
Brisigavi seniores
Brisigavi iuniores
Honoriani Mauri seniores
Honoriani Mauri iuniores
Celtae iuniores
Invicti iuniores Britanniciani
Exculcatores iuniores Britanniciani
Felices Valentinianenses
Mattiaci iuniores Gallicani
Salii Gallicani
Sagittarii Nervii Gallicani
Iovii iuniores Gallicani
Seguntienses
Galli victores
Honoriani victores iuniores
Honoriani ascarii seniores
Felices iuniores Gallicani
Atecotti iuniores Gallicani
Tungri
Honoriani Gallicani
Mauri tonantes seniores
Mauri tonantes iuniores

32 Legiones comitatenses:

Menapii seniores
Fortenses
Propugnatores seniores
Armigeri defensores seniores
Septimani seniores
Regii
Pacatianenses
Vesontes
Mattiarii iuniores
Mauri cetrati
Undecimani
Secundani Italiciani
Germaniciani iuniores
Tertiani Italica
Tertia Herculea
Lanciarii Gallicani Honoriani
Propugnatores iuniores
Secunda Britannica
Septimani iuniores
Praesichantes
Ursarienses
Cortoriacenses
Geminiacenses
Honoriani felices Gallicani
Tertia Iulia Alpina
Prima Flavia Pacis
Secunda Flavia Virtutis
Tertia Flavia Salutis
Flavia victrix Constantina
Secunda Flavia Constantiniana
Tertio Augustani
Fortenses

18 Pseudocomitatenses:

Prima Alpina
Secunda Iulia Alpina
Lanciarii Lauriacenses
Lanciarii Comaginenses
Taurunenses
Antianenses
Pontinenses
Prima Flavia Gallicana Constantia
Martenses
Abrincateni
Defensores seniores
Mauri Osismiaci
Prima Flavia Metis
Superventores iuniores
Constantiaci
Corniacenses
Septimani
Romanenses
The units' shield patterns are illustrated below from top to bottom, left to right, in the order given above, using the Bodleian manuscript pictures, except that only one pattern is given for the two Mattiaci units; the three contiguous units Exculcatores seniores, Sagittarii Tungri and Exculcatores iuniores are not illustrated; the Brachiati iuniores is also not illustrated; and a 'Batavi iuniores' is shown in between the Invicti iuniores Britanniciani and the Exculcatores iuniores Britanniciani. As a shield pattern labelled 'Batavi' is depicted in the correct place for the Batavi iuniores, that labelled 'Batavi iuniores' would seem to correspond to some other unit. As it is sandwiched between two other 'British' units, it would seem to be the missing 'Britones' recorded as serving under the Master Equitum in his Gallic command rather than one of the other units mentioned above as present but not illustrated. That its full name was Batavi iuniores Britanniciani is not beyond the realm of possibility.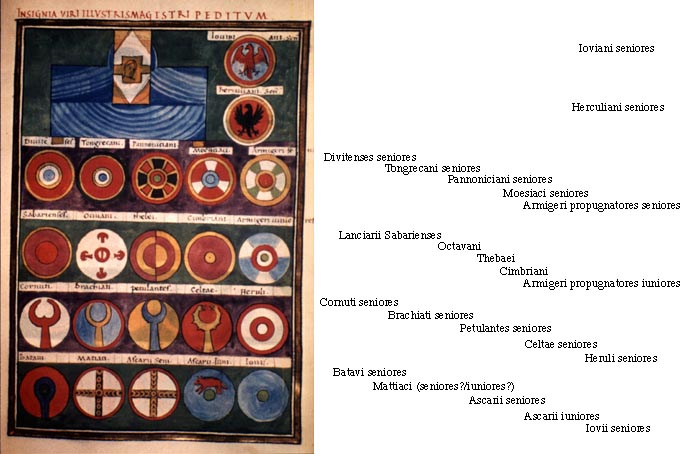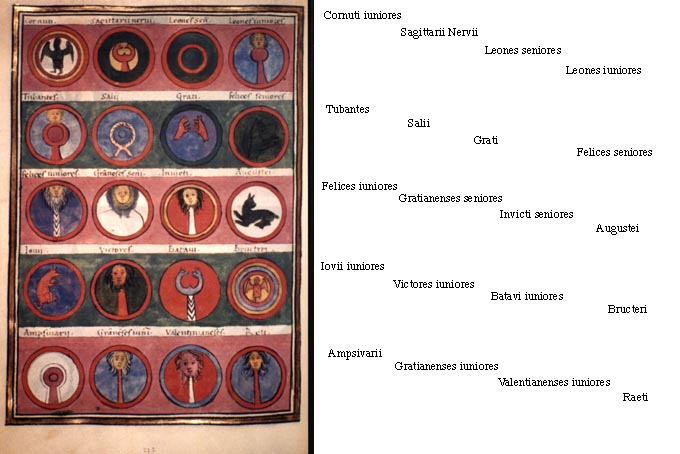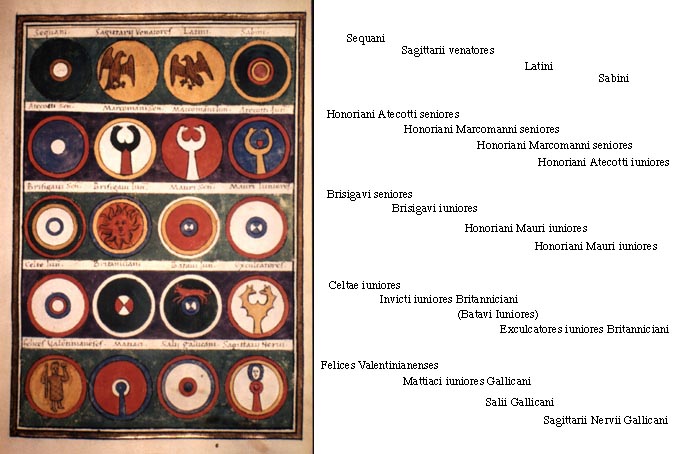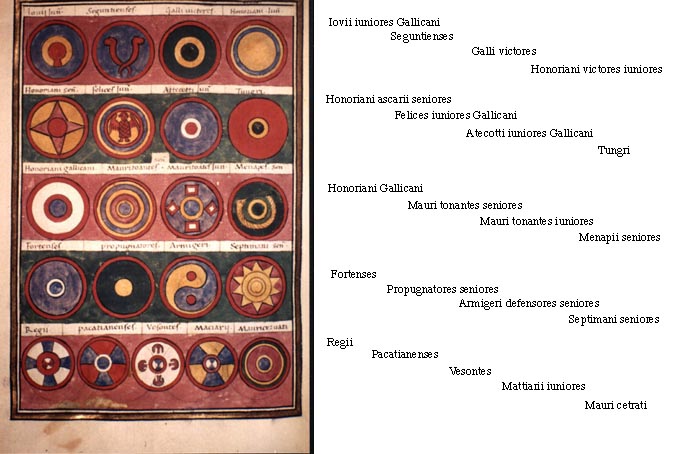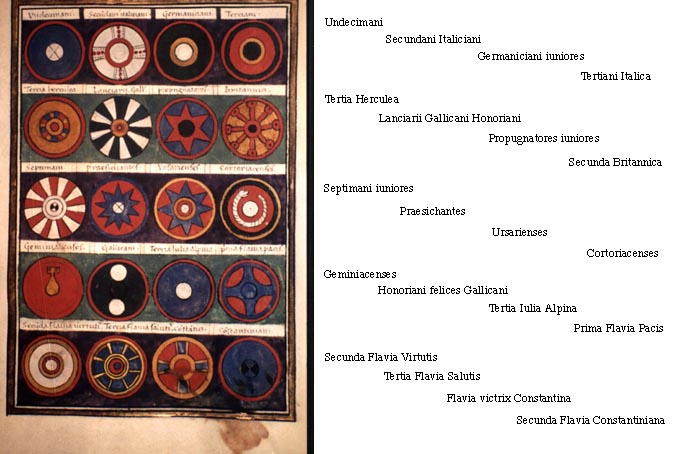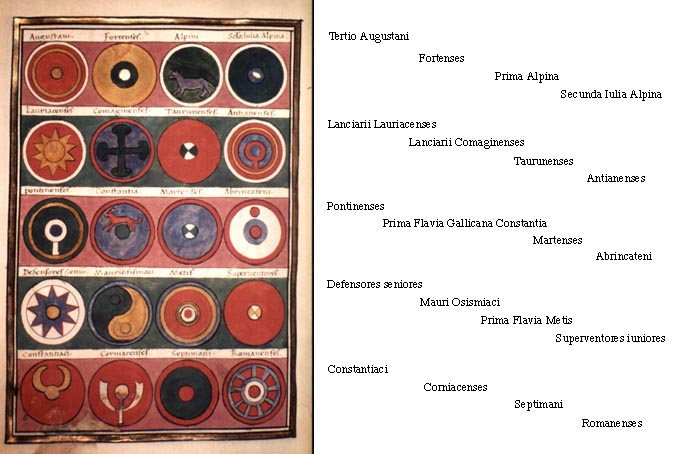 The Taurunenses and the Antianenses are unassigned to any of the various officers; they both appear to be units drawn from the Dux Pannoniae secundae. The Antianenses would have come from Antiana; modern Ban in Hungary. They might, as Jones indicates, have something to do with the Comes Illyricum, given they are positioned under other units in his command. The Augustei are similarly unassigned, and would also appear to come from the Dux Pannoniae secundae.

Note that another Auxilia palatina unit called the Salii is also listed under the Magister Praesentalis I; another unit of Regii is listed under the Magister Praesentalis II, as an Auxilia palatina rather than a Legio comitatenses unit; another unit of Undecemanii is listed under the Magister Praesentalis II, as a Legio palatina rather than a Legio comitatenses unit; and in addition to the two different Fortenses units listed above, another Fortenses unit, a Legio palatina, is listed under the Magister Praesentalis I.

Below are the corresponding pictures from the Munich manuscript: each respective page from the first portion first, then the second.

Return to the Notitia index page.