About Pixia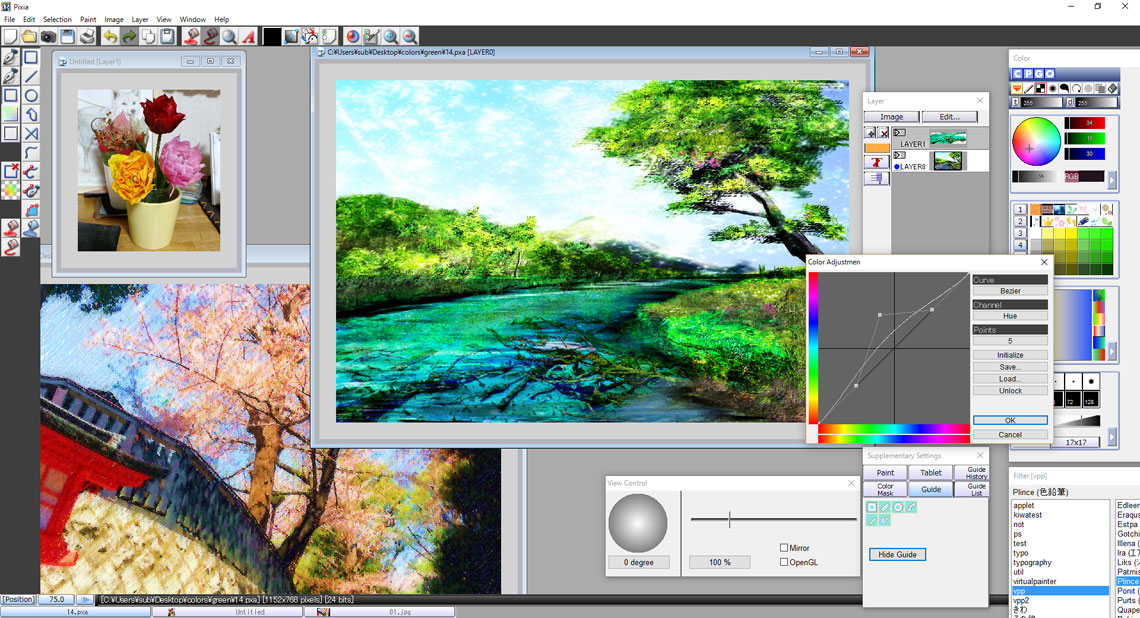 Pixia is a full–feature digital painting program first created and published in 1998 by Isao Maruoka.
Pixia is one of Maruoka's labors of love. He descibes Pixia as "the dream" that people can use to create beautiful, vibrant digital artwork of all types. Pixia is an environment that's always evolving and improving so you can express your creativity fully!
On the Official Japanese Pixia Website, a lot of fans submit requests, suggestions, questions, and answers on the bulletin board. There are also numerous how–to–use–Pixia web pages created by fans. For English Pixia, please join our discussion forum to participate with Pixia!
Pixia ReadMe
Pixia is free software. It may be used in any form, except for sale purposes. E–mail us in case of web distribution.
Q&A
Q: What do you mean by "It may be used in any form, except for sale purposes?
A: Selling Pixia itself or any files contained in the program set is prohibited. However, the copyrights of the artwork users make belong to them. Pixia is just a tool. It is just like cooking. It does not matter which knife you use for preparation. You may even make an artwork for sale with Pixia. You do not need to get a permission from Pixia's programmers and developers.
Q: Can I use a screenshot of Pixia in my how–to–use–Pixia website?
A: No problem.
Program Installation
EXE version: You don't need any tools or software. Double-blick to launch the file. It will automatically extract the contents to a temporary folder, launch setup and delete all the extracted files after installation.
Warning: Installing a newer version of Pixia over an older version already installed on your computer overwrites files and may initialize pen data and/or palette. The same holds true on reinstallation of the same version. We recommend that you backup your "pendata", "palette" folders, and the env_.env files before installation.
Launch Pixia
Click the "START" meu button or tap the Windows key. In your start menu, go to "Programs" or "All Programs" (or type in Pixia in the search bar) then click on "Pixia"/"Pixia ver. 5", and click "Pixia"/"Pixia ver. 5"/"Pixia ver. 6" unless you have changed the shortcut setting during installation process.
Copyrights
Pixia is free software.
The images with names beginning with "sifca_" in the "partsbox" folder are creations of Sifca Corporation.
The sample image in the installation folder, ppn456b.pxa, is a creation of MONAMI, who is an illustrator, and a Pixia user.
Among the textures supplied with this program, koushi1.bmp, koushi2.bmp, koushi3.bmp, koushi4.bmp, koushi5.bmp, koushi6.bmp, koushi7.bmp, neko.bmp, kyon.bmp, parts01.pxa, parts02.pxa, parts03.pxa, parts06.pxa, parts09.pxa, parts13.pxa, and parts15.pxa are creations of Ms Rumiko Takagaki.
Among the textures, tone25.pxa, tone50.pxa, and tone75.pxa, as well as 300.bmp, 301.bmp, and 302.bmp, in the "pendata" folder are creations of Gra ("Grassgreen").
Among the parts in the "partsbox" folder, grass.pxa, leaf01.pxa, leaf02.pxa, leaf03.pxa, and the pens in the "pendata" folder, 303.bmp, 304.bmp, 305.bmp are creations of and offered by BURUNYAN.
Copyrights of the files belong to the creators.
Basic Specifications
Pixia is a painting tool made exclusively for full color graphics.
Maximum graphic size: 10240 x 10240 dots (Note: this depends on RAM capacity.)
Number of Layers: Up to 64.
Peripheral devices applicable: TWAIN32 devices. Printers made to use for Microsoft Windows–compatible tablets (such as Wacom, Yutron, etc.)
System Requirements
Windows XP / Vista / 7 / 8 (32–bit and 64–bit) – Pixia v.4 and v.5.
Windows 7 / 8 / 8.1 / 10 (32–bit and 64–bit) – Pixia 32–bit v.6.
Windows 8 / 8.1 / 10 (64–bit only) – Pixia 64–bit v.6.
This does not guarantee that all the functions will work in every environment.
There can be exceptions due to numerous combinations of drivers, devices, etc.
Not less than 32 megabytes of RAM (As much as possible).
Super VGA monitor (with the screen resolution set to at least 800 x 600).
High Color or True Color (16–bit/24–bit/32–bit). Pixia does not work in 16 or 256 color environments.
Optional: Pressure sensitive tablets (Wacom, Yutron, etc.)
How–to (The things seemingly hard to figure out)
Right–clicking on the canvas captures the color. Shift + Right–dragging captures the image of the dragged area.
Freehand drawing with Shift key down draws only the very first stroke, suppressing drag.
Selection: After selection, right–clicking on the selected area pops up the sub–menu.
Palette: Left–click chooses colors. Right–click registers colors. Single colors or bitmaps can be registered and used.
There are two kinds of gradations: rectangular and straightline.
On straightline gradation palette, dragging from the ">" button towards the right adds a color, and dragging a color pointer towards the ">" button erases the color.
Left–clicking on figures in palettes adds and right–clicking subtracts. You can alter figures by directly dragging the pointing lines in palettes. Right–clicking draws the lines toward the mouse pointer.
Left–dragging with CTRL key down moves the top layer among the ones where the mouse pointer lies. Left–dragging with CTRL and SHIFT keys down moves the current layer.
Pasting as a new layer is influenced by the settings of Tone Filter and Transparency control.
Filling with a color also gets influenced by Tone Filter.
Layers: A layer consists of three planes: Image, Mask, and Transparency. Copy a layer to the clipboard and all three planes are copied. Paste is also affected by transparency and selection of the original image. When you paste onto the Mask Plane, or Transparency Plane, only the contrast information is pasted. Pasted on a new layer, all the three planes are maintained exactly as the original layer.
Registering bitmaps to the palette makes duplicates of the original images in the "palette" folder, which means registering many big size images to the palette will result in consuming a lot of hard disk space.
Help file does not come with the program. You need to download a separate file from the Pixia website.
Liability
In no event shall the author of these Softwares be liable for any damages whatsoever (including, without limitation, damages for loss of business profits, business interruption, loss of business information, or any other pecuniary loss) arising from the use of or inability to use these products, even if the Author of these Softwares has been advised of the possibility of such damages.