Techniques in Ankoku Butoh : Butoh dance lift or Butoh adadio
(Itto Morita: Jan.11th, 2015)
You might encouter with a butoh dancer (maybe, Japanese) who dares to say that "there is not techniques in butoh". No ways, of course. But, it is sure that there is some essential ideas in it about the authentic butoh although it fails to convey the real meaning of "no techniques".

I would say that there are lots of techniques you have to learn in the butoh training as we have proposed at least 20-30 different bodymind exercises in our butoh workshops, but your butoh performance would not appear authentic if you are too conscious about them while performing. We believe that butoh should be performed under a different state of consciousness, or in other words, there should be a kind of selfless state or non egocentric state of mind while performing by losing the very intention to perform as planned.

However, to think realistically, it sould be a combination of two opposite factors: The precise and highly developed body-mind techniques is in one side, and the ability to transcend them is in the other side while performing butoh. The latter is often connected to "butoh Tai", butoh body or butoh attitude, such as that turns ordinary dancing into something mysterious (hopefully) Ankoku butoh.

Anyway, I would like to show you butoh dance lift or butoh adadio techniques used in butoh performance since Hijikata's days. The word "adadio" (maybe, Italian) already has been used in butoh to describe "lift dance" or lifting the dance partner in the way of Ankoku butoh.

*Sankaijuku has avoided dance lift to preserve their butoh style.

Hijikata had to choreograph his young butoh students in the early days of butoh in 1960s (until 1986), who did not know almost anything about dance or butoh, and he gave them exact choreographs. For example, "Ox walk" is one of the walking methods in butoh, as shown in Hijikata's perforamance "Small Pox Story". Hijikata's butoh students claimed that it was realy hard to master the walking method completely, and their barefoot soles finally started bleeding during the lesson...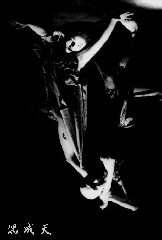 Butoh dance lift or adagio by Mika and Itto

A black and white Mika's image is an example of butoh dance lift by Itto of GooSayten. (It is turned upside down for a poster) In this lift position, Mika totally relaxes and looks smiling although in a strained position.
Butoh often consists of two opposite factors such as relaxation versus tension, curve versus straight line, fast movments versus painfully slow ones, etc. In lift or adagio, these basics are also important.
The coexistance of opposite factors in any form makes people uneasy or puzzled, and fix their attention to the posture or the movement because of the unsolved contradiction. We strongly believe this, and train ourselves hard, physically and mentally, in order to actualize it in our performance.
The human body is heavy, and not so easy to handle. Dancers would strain themselves or get injured unfortunately in the lift. But in butoh, unlike other dance styles, those risks and possibilities are also very significant as they make audience anxious or scarign them. In our case, Butoh GooSayTen, we run the risk of straining ourselves by twisting elbow joints, etc.
But, running the risk of straining oneself does not mean damaging oneself. It is meaningless if you hurt yourself physically and you have to cancel your performance. The point is very clear: you have to deepen your body-mind sensitivities by training in order to avoid any damages while exploring your physical and mental limits such as a fear of straining your muscles, bones, tendons, etc.
*I just remembered one butoh dancer who loved jumping down from a high place, who seemed to be enjoying running the risk of falling with thrills, fears, and joys when succeeded, until he finally broke his legs...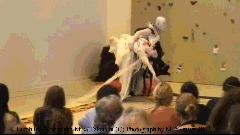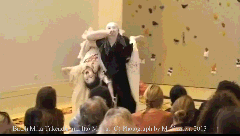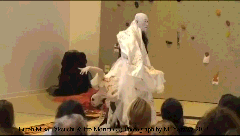 *Butoh GooSayTen performance for Ecarte 2013 Paris -
[video site]
 

(C) Butoh GooSayTen: Itto Morita 1/11, 2015