OLYMPUS OM-3Ti
---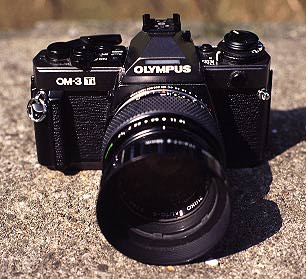 OM-3,with mechanical shutter and manual metering, was considered as one of the best manual cameras in the past.
It was a big surprise with great pleasure when Olympus restarted to manufacture OM-3 with new titanium body in 1994.

But currently, this camera is no longer in production.
Olympus stopped sales of OM-3Ti body in early 2002, while they are rapidly moving into digital cameras.

In exposure metering, sensitivity of center part of viewfinder area is higher than that of old OM-3

IMPRESSION

[Perfect!]

Sound of mechanical shutter has high quality.
Good holding feeling with a standard grip added on the body.
With special brown-black color, outlook is much sophisticated.

[Not very good]

50mm-f1.2 lens has better holding feeling than 50mm-f1.8 lens because of larger outer diameter. But in case of 50mm-f1.2, diameter of aperture ring is smaller than that of focus ring, and finger touch on aperture ring is partly bothered by focus ring.

50mm-f1.4 lens has adequate length and diameter to hold and enables good operation of aperture ring. This is the best size standard lens to use.

---
Shutter sound(.wav)
---
DATA
Mechanical shutter, manual metering.
Start of sales : November 1994
Weight Body : 510g + 50mmf1.2 : 285g =795g

---
If you use OM-3Ti, please send me your impression.
maekawa@japan.email.ne.jp
---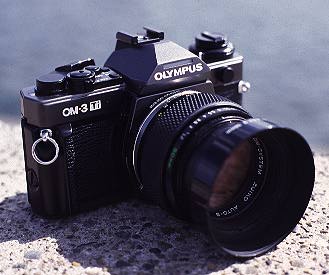 Return