or years a giddy mindlessness has marked the Technicolor dreams of Indian cinema. Viewers, say the movie moguls, need respite from the bleakness of the their daily lives, and they find that succor in films that feature a fixed set of ingredients: inadequately clad damsels, brawny heroes, artistic deaths featuring barking machine guns, a dash of slapstick, five or six well-choreographed songs, a happy ending. It is formula in both senses of the word, and its power is rarely questioned.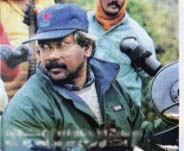 Mani Ratnam has made a mint by turning that formula on its head. The 43-year-old director scored a breakthrough hit in 1992 with "Roja" -- a Tamil-language drama about a honeymooning couple entangled in the violent Muslim insurgency in Kashmir. His next film, "Bombay", tackled the equally raw topic of communal tensions in India's most cosmopolitan city -- and established Ratnam as one of Bollywood's most bankable talents. Dubbed into Hindi, the blockbusters each ran for more than six months in some cities -- selling hundreds of thousands of soundtrack albums -- Ratnam picked up a reputation for making preachy movies palatable to an audience that generally prefers fluff. So it's ironic that the loudest complaint about his latest big-screen epic, "Dil Se" (From the Heart), has been that the love story set in India's violence-wracked northeast is, of all things, too formulaic.
  Ratnam may have only himself to blame for Indian audience's changed expectations. Fifteen years ago, driven by disgust with the schlock filmmakers were churning out, he quit his job as a management consultant to make movies. He went on to shoot a film a year: all are marked by the use of innovative camera angles and better-quality film and scripts; most have been welcomed by critics and the masses. In his most roaring successes, Ratnam introduced another element rare to Hindi film -- a social conscience. The villains in "Roja" and "Bombay" are depressingly real, lacking the usual evil leers and impaired intellects. Unlike the more typical feudal bullies or corny drug smugglers, these are victims-turned-rebels, who hold legitimate, passionate points of view. "When people are willing to blindly give up their lives, then there must be a lot of pain and agony, tutoring and brainwashing," says Ratnam. "I want to show that these people are part of the same social system as we are, up in arms over problems we need to look at."
  The director's genius consists of masking that sermonizing in some of the most lush, sweeping images to grace the gaudy Indian screen. He has been known to spend hours on a single shot -- and to waste meters and meters of film on each cut. "I want to say something, and if I have to wrap it in a story form, I don't mind," says the director. "I want to make it in a form that the people are used to." Even the song-and-dance that intrudes so goofily on other feature films is often massaged into the plot as a dream sequence, set to the stirring beats of Tamil wunderkind A.R. Rahman.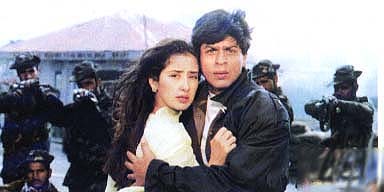 "Dil Se" certainly arrived with the right pedigree: the song sequences have the look of films unto themselves, shot to contrast a stark Ladakh desert and the emerald water-world of Kerala. Bollywood's top leading man, Shah Rukh Khan, plays the hapless All India Radio reporter who falls for an elusive Manisha Koirala. She -- driven into a secessionist rebel movement by her gang-rape as a child by Indian soldiers -- spurns his love for the cause, until an operatic climax in New Delhi. Anticipation ran so high among Indians abroad that the film cracked the Top 10 in England its first few weeks.
  Unfortunately, the flash seems to have taken precedence over the film itself, which has bombed in India. Usually forgiving audiences have faulted the script for taking too many liberties, jumping from one end of India to the other like a tourism commercial. Many say they have come to expect a more realistic bent from Ratnam: he made "Roja" after a Tamil engineer was taken hostage and killed in Kashmir; "Bombay" was filmed in reaction to the 1992-93 riots that raged throughout the megalopolis. "Dil Se", on the other hand, departs from the well-known reality of the secessionist struggle, shifting incomprehensibly to northwestern Ladakh from distant Assam, and featuring suicide bombers -- a breed more common in Sri Lanka than in the troubled northeast.
  Some critics have wondered whether Ratnam -- shooting for the first time in the more widely spoken Hindi rather than his usual Tamil -- may have simplified the script in order to appeal to what is by reputation a less discerning audience. "Once I have a thousand people sitting in front of me in a darkened hall, it is important that I communicate with them," says the director. After "Dil Se", though, he may realize that the language he created in films like "Roja" and "Bombay" speaks louder than the one he has tried to adopt.