Yasuhiko Hayashi's
Invitation to@Weekend Ceramic Artist.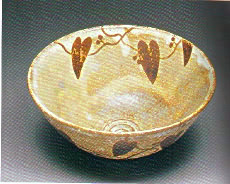 *@CERAMICS & ILLUSTRATIONS@ Yasuhiko Hayashi

*This is a summarized report by Tomoko Nakamura , a member of the YAKIMONO mailing list, of Mr. Hayashifs October 17 lecture in Oita.

October 17,1988 was a dreadful day marked by heavy rain and strong wind caused by an approaching typhoon.In spite of the hideous weather,YAKIMONO (pottery) fans braved the elements to gather at Oita Culture Hall in Oita City, in Kyushu , Japan, to share their love of pottery with an amateur potter named Yasuhiko Hayashi.

This was the first official lecture presented by NIHON NO YAKIMONO (Japanese Pottery) mailing list, which is made up of over 300 members from japan and abroad. It was made possible by a grant from the city of Oita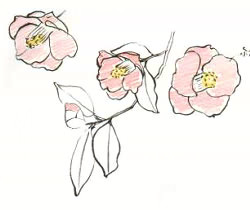 Yasuhiko Hayashi , who calls himself a gWeekend Potterh, has been working at Japanfs leading advertising company for 20 years as an ad-planner. His work involves the production of advertisements for television and radio. gAs you can see, my pottery skill is nothing special. Ifm just a businessman who has a nice hobby.But, Ifll be happy if you find you have some similar experiences to me as to how i enjoy pottery or how i practice my hobby,h
Mr. Hayashi told the audience.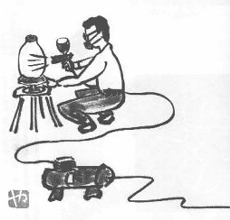 Mr. Hayashifs interest pottery began in 1991. It has since become a major part of his life. g Ifve tried many different things such as tennis, swimming, diving, fishing, golf, and even aerobics. But none of them satisfied me at all.h He recalled how pottery came to be his life-time hobby. g In my mid-thirties, I started to do oil paintings in my spare time. It was fun and I began to remember how much I had loved to draw when I was young.

I realized that I still enjoyed it very much. A little later, I had a chance to spend some time at my friendfs mountain lodge. When I was sitting I front of the fireplace I felt comfortable. The fire and my thoughts of painting led me to consider the possibility of taking up pottery as a hobby.h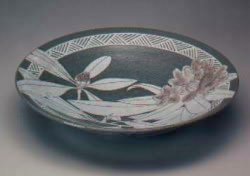 When Mr. Hayashi was transferred to his companyfs Fukuoka office in 1995, he began to be more involved in pottery. His promotion changed his life style. He became a so-calledg business bachelorh-someone who has to move alone to their place of transfer and live separately from their family. At first he thought his promotion was bad luck. Then he decided to take the opportunity to become more involved in his hobby. Because he was living alone, he had much free time and space, so he began to make pottery in his condominium. The energy Mr. Hayashi was able to spend on his art made it possible for him to be chosen as an exhibitor at the Japan Traditional Crafts Exhibition in both 1996 and 1997.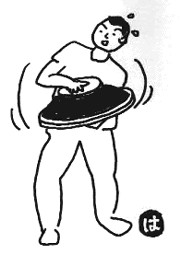 When he started learning how to make pottery in Tokyo, Mr. Hayashi attended a private pottery making class. The teacher was a very helpful person. He even gave him a spare key so he could use the classroom at night. This teacher inspired him to make pottery. Shortly after, Mr. Hayashi bought a pottery wheel that made it possible for him to work at home. His wife agreed to let him bring the pottery wheel home after he promised not to make a big mess. He set aside a small corner of his Tokyo condominiumfs outside balcony to use as his work place.
Even though using a wheel outside on cold winter nights was hard, he enjoyed making pottery so much that he forget his physical discomfort.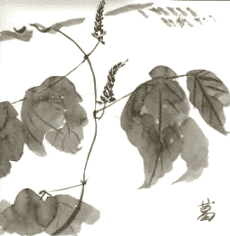 As with others who took up pottery as a hobby, Mr. Hayashi wanted to have a kiln. After he was transferred to Fukuoka, he made the major financial expenditure of buying his own kiln, which he installed inside his condominium. He actually changed his two-bedroom Fukuoka condominium into a workshop by putting his wheel and the kiln in his kitchen. He installed bookshelves in his two bedrooms so he could use them as storage areas for unfired works. He used his bathroom and the space over his washing machine as drying areas. He installed a storage shed on the roof of his building to hold raw materials for his pottery.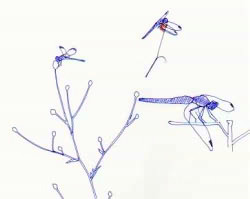 When he was living in Tokyo he made pottery at night. But when he moved to Fukuoka, he started working early in the morning. Mr. Hayashi wakes up at 5:30 so he can have two hours to himself making pottery before he goes to work. After work, he goes back home to make more pottery. When he was living in Tokyo, he seldom went straight back home after work because he often went out. But now he had something more interesting than going out to do-making pottery. He began to enjoy his gbusiness bachelorh life, including cooking for himself, which he does while gcookingh his pottery in his kiln.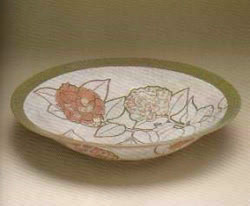 Mr. Hayashi thinks it is never too late to start something new. gWhen I took up pottery I was 38 years old. I was encouraged by the biography of the late Kei Fujiwara, a Bizen-ware potter. He began making pottery when he was 39 years old and later was designated as a Living National Treasure. Later I found that Rosanjin took up pottery at 40. I am glad I was not discouraged by my age when I decided to make pottery my hobby. If I had not started then, I would have said when I was 45 that I should have started at that time. Or when I was 60 I would have said I should have started at 50. Or when I was 75 I would have said I should have started when I was 70. I was also encouraged when I heard the story of how the late Tokuro Kato learned how to use a word processor at 84. He purchased a Japanese word processor when they were first put on the market.h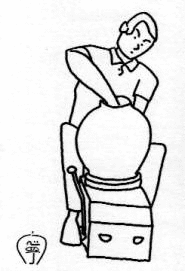 Mr. Hayashi has have to survive in the highly competitive world of advertising. He learned how to efficiently draw attention to and emphasize the appeal of and inner quality the products he was working with. He applies the same principles from his work to his hobby. gPeople usually become engrossed in either their career or their hobby, but I never thought that way. I think it is not necessary to choose one at the expense of the other. I believe people should try to make their work interesting, because the time we spend at work is the best part of the day. I came to realize that there is no waste involved in the things we do. They may seem like a detour, but they are not, because everything we do is connected.h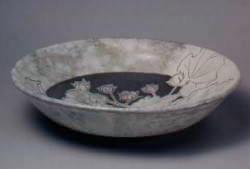 Mr. Hayashi wants to live for a long time. gIf I live until 90, my pottery career would be 50 years old. At that time I would be a MEIJIN (master). I published my first book when I was 44. so if I live until 90, my writing career would be 46 years old. That means I would be able to improve my writing skill. I would like to keep thinking, gWhat shall I be when I grow up?h.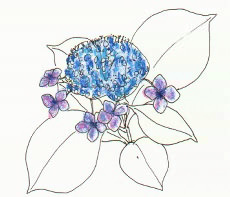 *@All articles and other parts on this site belong to Tomoko Nakamura & Yasuhiko Hayashi.
(All unauthorized use for any purpose is strictly prohibited.)@@@@@



Biography of Yasuhiko Hayashi:

Yasuhiko Hayashi was born in Okayama Prefecture in 1953. After graduating from Waseda University, he began to work at Japanfs leading advertisement company in Tokyo as a planner and producer of radio and television commercials. He has written two books, one on the art of planning and producing commercials, and the other on his hobby of making pottery. He also writes for a quarterly magazine about his experiences with pottery. In regard to his professional life, he received the grand prix from the A.C.C. (The All Japan Radio-Television Commercial Conference) for his works in 1984, 1985, and 1989. And he was also honored by the A.C.C. in 1995 when his radio advertisement was added to the A.C.C.fs permanent collection.


Yasuhiko Hayashifs second book(1998)


Invitation to Weekend Pottery
published by Shobunsha Ltd
2-1-12 Sotokanda Chiyoda-ku Tokyo




@@@@@@@@@@@@@@@@@@@@