The Tsutenkaku and The Rokko-oroshi
("Tsoo-Rock")
Written By Takashi Murata
Photos shot by a mobile phone A5401CA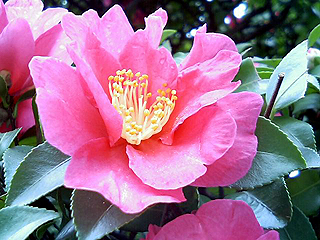 Camellia.
It is amazing that Camellia is in full bloom now, considering the cold, dark, and monotonous winter in Northern Europe. An alternative winter destination for Riviera?
December 13, 2003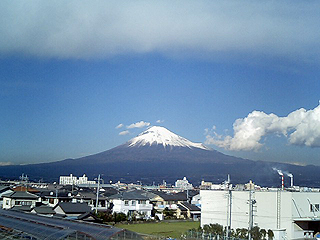 Mt. Fuji.
I have been on a business trip to Tokyo by Shinkansen. This view of Mt. Fuji is quite familiar for me, but keep in mind that this beautiful mountain is a live volcano which has just errupted in 1707 for the last time....
December 20, 2003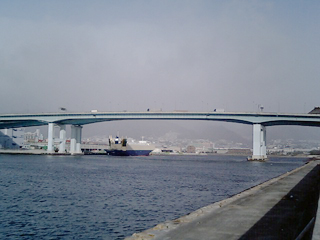 Snowfall in the Blue Sky.
It was a strange weather. A cold but fresh morning with blue sky. Then, snowfall. From the coast on the south of Ashiya, Mt. Rokko was covered by white curtain which actually was falling snow derived from the north.
December 25, 2003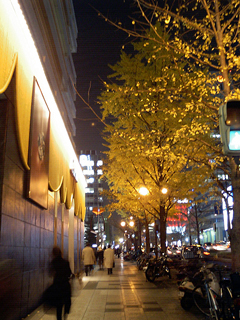 Ginkgo at Midosuji.
At Shinsaibashi, Ginko leaves still remained yellow on the tree on Christmas day. Impossible in Stockholm!
December 28, 2003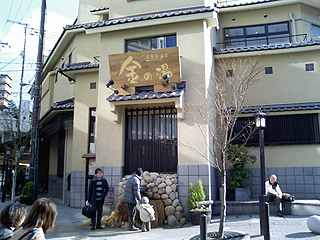 Natural Hot Spring in Arima.
Thanks to being located in the midst of the volcanic hot-spot on the Pacific Rim, Japan boast many natural hot springs. Arima is one of the oldest, and known for red water which contains plenty of iron salt. It may look scarely for foreign people, but it is really nice to dip yourself in this mineral-rich hot water. Many people enjoy staying at hotels in Arima, but a day visit spa is also open for local people. Surely, a luxury for a cold winter day.
December 31, 2003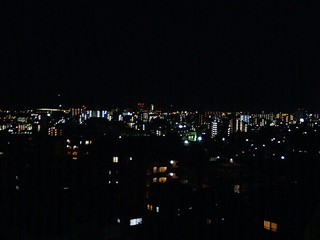 The last night of year 2003 falls over Kobe. It was a dramatic year, leaving Sweden after four years stay and setteled down in Kansai for the first time in my life. The lights of Kobe were just quiet and peaceful.
Copyright 2003 Takashi Murata, All Rights Reserved.