ASAHI PENTAX SP
---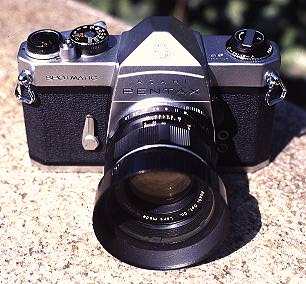 PENTAX's best seller camera in old days.
Manual metering with real aperture.
Good simple design shows typical manual camera shape.
In this SP, easy-to-use manual SLR was once completed. The historical SLR improvements,-- penta prism to avoid left-right inverse, quick return mirror to avoid black-out after exposure, and inside TTL manual meter-- were all integrated and implemented here.

IMPRESSION

A monumental camera, but real aperture metering is old fashioned now.
That cannot be considered to be convenient in recent days.
When metering, you push up the meter switch on body and you can see finder in pre-view mode with real aperture. Seeing the meter, you arrange the aperture darkening or brightening the finder.
Push down and turn off the meter switch, then you can see finder with full open aperture. Focus and push the shutter button. This camera has auto aperture, and aperture is quickly changed to set value just when exposed.
Recently I can seldom see a man who is carrying this camera.

---
Shutter sound(.wav)
---
DATA
Mechanical shutter, manual metering.
Start of sales : 1964
Weight: Body:623g + 55mmf1.8:205g =828g

---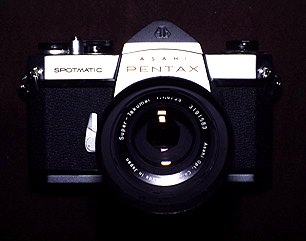 Return