OLYMPUS OM2000
---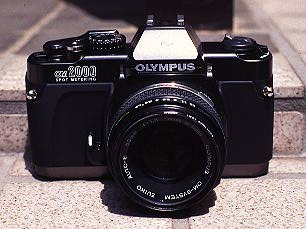 The newest OM-mount SLR with plastic body, mechanical shutter and manual metering.
Specification is almost completely same as Nikon FM10 except for OM-lens mount and addition of spot metering.
OM2000 is mainly to be exported for the Eastern Europe, Southeast Asia, and Middle,South America. Body and 35-70mm f3.5-4.8 zoom kit is priced at 38,000YEN in street.

In the article in April 1998 issue of Popular Photography, the top and bottom covers of OM2000 were taken off to examine inside. According to the article, the die-cast alloy chassis is similar to those found in costlier cameras and most internal shafts and levers are metal. OM2000 seems to be a well-engineered durable camera.

IMPRESSION

[Perfect!]

Film wind lever is moved very smoothly while OM-3/4 has some friction in that moving. Body with plastic outer cover has favorable light weight.
Metal coating on plastic cover makes high quality outlook.
Thin rubber coating on grip areas produces good feeling to hold.

[Not very good]

Rather loud shutter sound and some mirror shock vibration.


---
Shutter sound(.wav)
---
DATA
Mechanical shutter, manual metering.
Start of sales : July 1997
Weight Body : 430g + 50mmf1.8 : 165g =595g

---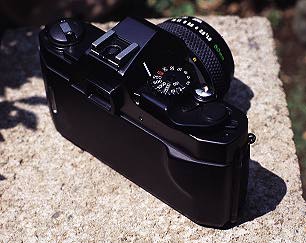 Return