OLYMPUS M-1
---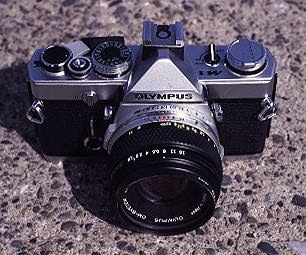 Origin of OM-1.
Leitz who produced Leica M series pointed out that the name "M-1" has a kind of infringement problem.
It was not a real registration problem. Only one alphabet "M" cannot be a registered trademark of anyone. Olympus could use "M-1" legally but they changed the name of "M-1" to "OM-1" adding "O" of "Olympus" to avoid trouble with Leitz.
M-1 priced at 50,000 to 70,000 yen can be sometimes found in used camera shop.
The number of M-1 manufactured was below 10,000 pcs. It is a rare camera.

M-1 and early OM-1 have original shutter damper that is different from that of later OM-1. They have very mild shutter sound.

IMPRESSION

Function is same as OM-1.
I asked OLYMPUS service agency(in Japan) for the overhaul of a used M-1. They adjusted the accuracy and changed the outer leather to new one. My M-1 was reborn as an almost-new camera.
It's a special pleasure to bring this body with nice "M-1" logo that only M-1 body has.

---
Shutter sound(.wav)
---
DATA
Mechanical shutter, manual metering.
Start of sales : July 1972
Weight: Body:510g + 50mmf1.8:165g =675g

---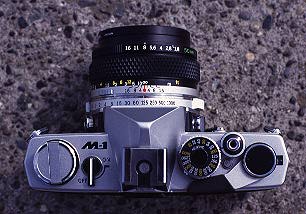 Return