ASAHI PENTAX KX
---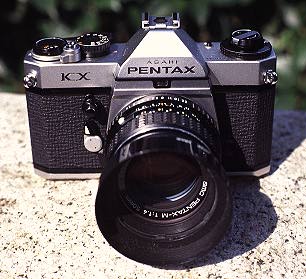 The camera with highest specification in mechanical shutter camera group in Pentax K series.
Concentrated information finder(Shutter speed and aperture display in finder) installed in KX was a function that had just started to be in fashion in the days KX released.
And even mirror up was added in this camera.
This is the final version of the evolution of mechanical shutter Pentax with traditional size same as SP.(S series and K series were able to be used with same camera case.)
MX was released next year of the year KX released. Almost-new level used KX can be rarely found and maybe this is because KX's actual life was short and few amount was sold.
KX do not seem to be priced with premium, because it is less popular than MX.


IMPRESSION

[Perfect!]

Blue, rather thick bar indicates shutter speed, and black thin needle have to be on blue bar for best exposure. This meter is convenient to see difference between meter indication and exposure setting in analogue, and easy to use.
Full display in the finder and good size for holding make this camera attractive.


---
Shutter sound(.wav)
---
DATA
Mechanical shutter, manual metering.
Start of sales: June 1975.
Weight: Body:631g + 50mmf1.4:235g=866g

---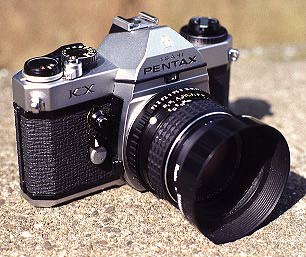 Return