PENTAX K1000
---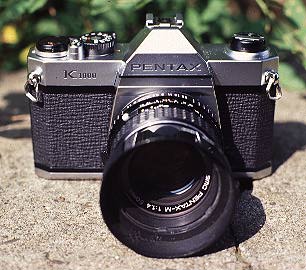 In 1997 production was stopped. Function of this K1000 is almost completely carried over from SPF in S series and KM in K series.
With the letters "MADE IN CHINA" in bottom surface, this camera was mainly to be exported to countries other than Japan.

There are at least two versions of K1000 historically, the early "Made In Japan" version and the last "Assembled In China" version. This last version's top and bottom cover are chromed plastic while those of the early version are metal.

IMPRESSION

[Perfect!]

Manual meter is in the right side in finder.The needle is to be fixed in the center to get right exposure. This is very good traditional and basic usage.

[Not very good]

Response of meter needle moving is slow when compared with recent manual cameras. When rotating aperture ring, needle starts moving slowly and you have to wait just a second for finish of needle motion.
Shutter sound is large and that is same as old Pentax.


---
Shutter sound(.wav)
---
DATA
Mechanical shutter, manual metering.
Start of production : 1976
Weight Body : 525g + 50mmf1.4 : 235g =760g

---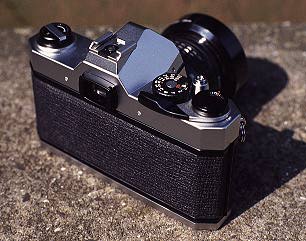 Return