CANON CANONET G-III 17
---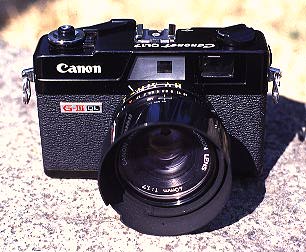 Shutter speed priority AE, mechanical shutter, range-finder camera.
Aperture is diplayed in view-finder.
This camera is still popular in used camera market and is easily found in used camera shops.


IMPRESSION

[Perfect!]

Big f1.7 lens. Rugged durable metal body. Outstanding smoothness of film advance lever.
Genuine lens hood with a slit is shaped to minimize the bothering in view-finder.
In the past, there was a well-designed metal compact AE camera like this.

[Not very good]

In manual aperture setting mode, meter needle is being kept in upper side of the meter. Manual metering function do not work.


---
Shutter sound(.wav)
---
DATA
Mechanical lens shutter. Shutter speed priority AE, or manual exposure without metering.
40mm f1.7
Start of sales : March 1972.
Weight : 620g

---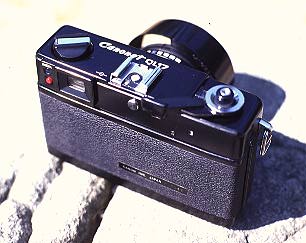 Return