CANON F-1
---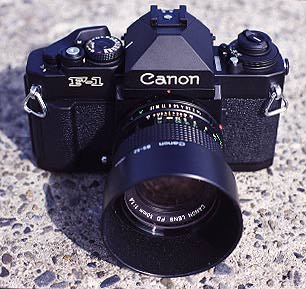 Production was ceased lastly in 1996.
Japanese camera&photo magazine "Asahi Camera" of June 1996 had Canon's announce page of F-1 sales stop saying "Thank you."
F-1 in camera shops also disappeared rapidly because many people hurried to camera shop to buy last brand-new F-1 bodies.
Good-bye,heavy military tank for professional use.


IMPRESSION

[Perfect!]

You can get a feeling of satisfaction when you hold this camera steadily, push shutter button, and hear the sound of mechanical quality.

[Not very good]

Over 1kg! Big and heavy anyway.
I can hardly recommend this camera for carrying it with one standard lens to enjoy walking.
50mm f1.4 lens aperture ring has rather rough feeling to move.


---
Shutter sound(.wav)
---
DATA
Mechanical shutter(1/2000-1/125sec),electrical shutter(1/60- 8 sec), manual metering(with Eye level finder FN).
Start of sales : November 1981(New F-1)
Weight Body:805g + 50mmf1.4:235g =1040g

---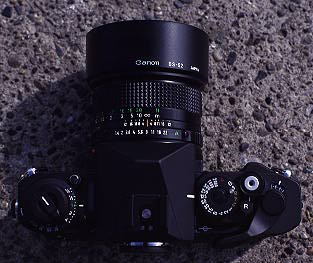 Return