CANON EF
---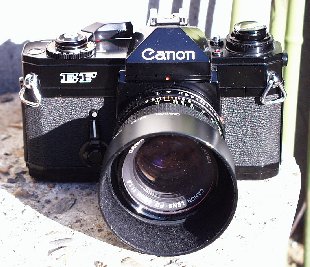 In the transient phase for the times of AE SLR, Canon insisted on having shutter speed priority function and released this EF, while many of other camera maker were going to aperture priority AE.
EF has mechanical shutter with the speed 1/1000 - 1/2 sec.. It is a very unique camera in which mechanical shutter and shutter speed priority AE system were combined.
The attractive point of this camera is that most advanced system, such as mechanical-electrical hybrid shutter and AE system, was incorporated in the first-F-1-like traditional rugged metal body.
There are shutter speed and aperture display in the viewfinder.

There are two versions of EF body, early only-micro-prism viewfinder type and last split-micro-prism viewfinder type.
This is rather rare camera in used camera market today.


IMPRESSION

[Perfect!]

Even while holding the camera, it is easy to operate the shutter speed dial with forefinger.


---
Shutter sound(.wav)
---
DATA
Mechanical shutter (1/1000 - 1/2 sec), Electrical shutter (1 - 30 sec).
Shutter speed priority AE.
Weight: Body:740g + 50mmf1.4:235g =975g
Start of sales : November 1973

---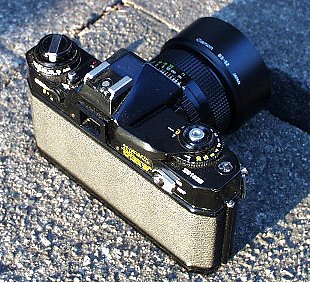 Return