CANON EF-M
with 50mm f1.8
---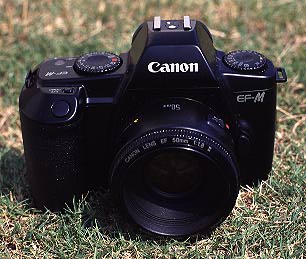 This strange camera is only for manual focusing though its lens mount accepts only AF type lens.
Cheap price without AF driving mechanism and without flash. This EF-M is intended for export to countries other than Japan.
You can select manual metering mode.
In Japan, only a particular camera shop once had this camera inversely imported and sold with price 18,000 yen for body only.


IMPRESSION

[Perfect!]

Simple and rather large digital display of shutter speed and aperture --for example "125 5.6"--under the frame in the finder is very clear to check.
Light weight.

[Not very good]

Aperture can be changed using a dial in top, shutter button side. When holding camera, it is not easy for forefinger or thumb to reach this dial.
In manual metering mode, meter indicates only "+" or "-". You can not know how much degree in analogue the indication is over or under.
Focusing ring of 50mm f1.8 II is narrow and cannot be used comfortably when manual focusing.
This kind of camera could have been a attractive one, if it had been designed as an ultimately compact and light-weight SLR, eliminating AF driving and flash mechanism.

---
Shutter sound(.wav)
---
DATA
Electrical shutter.
Program exposure, aperture priority AE, Shutter speed priority AE, Manual metering.
Weight: Body:390g + 50mmf1.8:130g =520g

---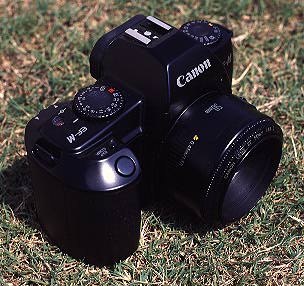 Return