LEITZ MINOLTA CL
---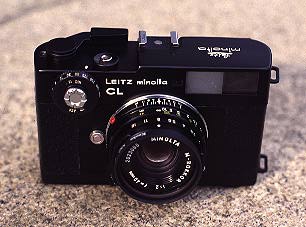 This camera was produced by the partnership between Leitz and Minolta.
Mechanical shutter,manual metering, manual focusing with range finder.
Used one with 40mm lens is priced at around 120,000 yen in Japan.


IMPRESSION

[Perfect!]

Compact body makes it easy to bring around. This has very wonderful design concept -- compact and functional.

[Not very good]

When it was actually used, some small problems appeared.
When holding, location of shutter button should be at more right side.
Rotation angle of film advance lever is large and it does not allow repeated small angle winding.
Shutter dial can often be touched incidentally and move unexpectedly.
Based on internal mechanical structure, exposure meter checks the brightness of only center part of frame,and you should be careful to get average and adequate exposure when using this type of meter.

---
Shutter sound(.wav)
---
DATA
Mechanical shutter, manual metering.
Focalplane shutter, lens exchangeable, Leica mount.
Start of sales: November 1973.

---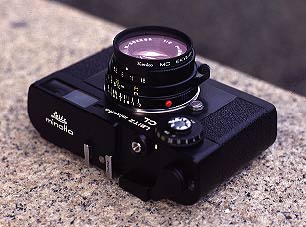 Return