OLYMPUS 35SP
---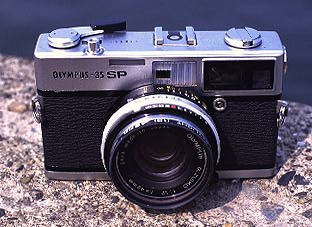 Highest grade of the past Olympus 35** series of compact AE cameras.
Exposure metering is available when manual setting mode is selected.
The lens is f1.7 with big diameter.
There is a spot metering button in the back.


IMPRESSION

[Perfect!]

This camera is excellent in the feeling of holding and operating because of its rather big size.

[Not very good]

Manual exposure metering is not directly linked with the operation of shutter speed and aperture ring. All of operation cannot be completed while looking at the view-finder only.
One must read the "EV" value on the meter in view-finder, and then remove his eyes from finder and set shutter speed and aperture to get objective "EV" value.
EV value can be seen in the small window on the shutter speed and aperture ring around the lens. The value simply depends on the combination of shutter speed and aperture.
The feeling of shutter button is heavy and the quality of shutter sound is not comfortable. Some rough kind of echo sound inside the body is heard just after the shutter release.

---
Shutter sound(.wav)
---
DATA
Mechanical lens shutter. Program AE or manual exposure.
Zuiko 42mm f1.7, 5 groups 7 elements.
Start of sales : April 1969.
Weight : 600g

---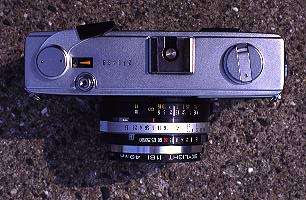 Return