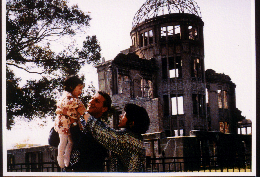 A-Bomb Dome, Hiroshima
Photo: Toyukai (Tokyo Federation of A- and H-Bomb Sufferers Associations)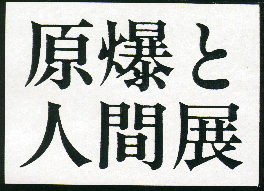 The A-Bomb and Humanity
Produced by the Japan Confederation of A- and H-Bomb Sufferers Organizations (Nihon Hidankyo)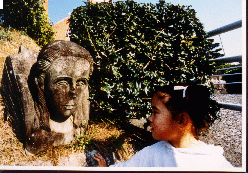 Statue of Angel in Urakami Cathedral, Nagasaki
Photo: Haruo Kurosaki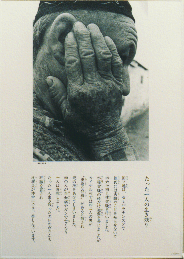 (4)Only Survivor
The Soviet Union conducted a total of 467 (atmospheric, and later underground) nuclear tests in Semipalatinsk, without giving any information to the nearby residents about the danger of the tests. Only when the first atmospheric H-bomb test was to be conducted in 1949, the people were ordered to evacuate from the area. But 42 men in Kainar Village, located very close to the test site, were told to stay for an "important job", and as a result, were directly exposed to the fallout. Of them, 40 have already died of leukemia and cancer; one killed himself. Eleogaze, the only survivor of the 42 men, is now suffering from liver trouble and skin inflammation that covers his whole body.
Photo: Takashi Morizumi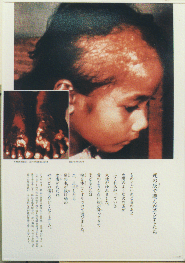 (5) Children Who Played with Deadly Ashes
After tremendous flash and noise, A fireball, like the sun, swelled skyward. An explosion shook the ground. White, snow-like powder fell. Children played with the powder, rubbing it against their bodies. A few days later, Their hair began to fall out. Their skin became inflamed. Their burns grew worse.
For 13 years after the end of World War II, the United States conducted 66 nuclear tests at Bikini and Enewetok Atolls in the Pacific. Yet no safety measures were taken for the people living in the area. H-bomb tests, in particular, caused radioactive fallout to rain on large sea areas. The victimized islanders are still suffering from the serious after-effects of the radiation
A girl whose hair has fallen out Burns on the feet from radiation Photo: Hiroto Kiryu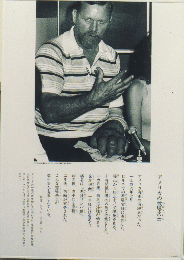 (6)U.S. Atomic Soldier
I was serving in the U.S. Navy as a fire-fighter. In July 1946, I took part in the atomic bomb tests carried out at Bikini Atoll. I observed an explosion about 30 km from the blast center. Ten hours later I was engaged in a work on the island where the bomb detonated. One month after the test, edema developed on both legs. I had to have my left leg amputated. One year later, I lost my right leg. My disease was diagnosed as "malignant lymphoma". Four years later, edema developed on my left arm. In two years, I was told that my left arm must be amputated. There are hundreds of thousands of atomic soldiers like me still suffering. John Smitherman
About 300,000 soldiers were made to take part in a series of nuclear tests conducted by the U.S. After detonation, they were ordered to rush into the area of the blast center or to engage in fire-fighting activities. In 1983, Mr. Smitherman died at the age of 54 of rectal cancer spread throughout his entire body.
John Smitherman, U.S. "Atomic Soldier" Photo: Rengo Tsushin