ANATOLIAN SELJUQIDS
Seljuq and his relations of Turkman people, which had lived in Central Asia (current area of Kazakhstan), immigrated westward in the latter half of the 10th century, extending their power and proselytizing themselves into Islam. His grandson Tughril Beg established the Seljuqid Dynasty (1038-1194) in Iran and received the title of eSultanf from the Caliph of Baghdad as the king of the political and military field.
On the other hand, his cousin Sulayman advanced toward Anatolia (now Asian side of Turkeyfs territory) and founded the Seljuqids of Rum (1077-1308), defeating the Ghaznavids. Rum was a corruption of Rome, indicating the land and people of the Byzantine (Eastern Roman) Empire that had ruled most of Anatolia. Thus the so-called Kingdom of Seljuqid Turkey came into existence and Turkish people have settled in Anatolia since then.

___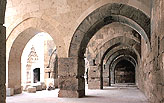 Entrance Iwan and Cloisters of Caravanserai
Its capital was Konya located in the central region, which thrived much from the 12th to the 13th century. Kayqubad I, one of the Sultans who built its zenith, intended to establish the domestic Caravan routes (trading roads system).
There remain numbers of Caravanserais in Anatolia still now, in particular along the main road from inland Kayseri to the Mediterranean coast through Aksaray and the capital Konya. Above all, those at Sultanhani near Aksray and at Sultanhani near Kayseri were the strongest and largest ones, both of which were donated by the Sultan Kayqubad I.
While the nomenclature of Caravanserai (Kervansaray in Turkish) is derived from Persian, it is more often called eHanf in Turkey (Khan in Arabic), Sultanhani accordingly means the Royal Caravanserai erected by Sultan. (The spelling of Han changes into Hani according to the previous noun.)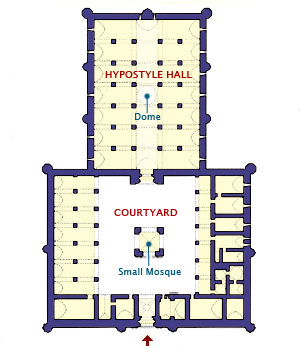 CARAVANSERAI at Sultanhani near Kayseri, PLAN
Though this is another Caravanserai, its plan is almost the same.
(From Henri Stierlin, "Architecture de l'Islam," 1979)
CARAVANSERAI (HAN)
The caravanserai at Sultanhani, located one-day journey from Aksaray, is surrounded with solidly built walls about 2m thick, on which there are only a few crenel-like narrow windows apart from the entrance portal. It was a utility building, defense-oriented against bandits, as if it was a stronghold for caravans to stay safely at night.
However the front portal is made of Syrian-like elaborate stones and the upper part is chiseled in the ornament of Muqarnas (stalactite decoration), which is no disparity from portals of a mosque, a madrasa, or a place.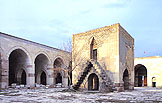 ___


Present and former states of courtyard and mosque
Inside of it, a square courtyard is surrounded with cloisters. The left-hand open space is for grooming horses and camels, while on the right-hand there were an administration room, a kitchen, a hammam (bath room), and rooms for merchants. Like a mosque, there is a fountain basin in the center of the courtyard, the upper story of which is a worship room (Mescit). Sculptors left their skillful relieves of arabesque on its walls.
The main building across the courtyard is the hypostyle accommodation hall that resembles an Arabic type mosque. In this hall with 24 pillars, caravans unloaded commodities, and then camels and bearers slept there.


ARMENIAN INFLUENCE
Most of Anatolia is situated on high plateaus over the altitude of 1,000m. Differing from semitropical Arabia and Persia, it is quite cold in winter. Therefore it is not functional at all that a Hanfs accommodation hall be so large with a 15m high ceiling and no partitions to protect from the rigors of the cold. On the other hand, the stones of its pillars and walls were cut precisely and piled up exquisitely. This five-aisled great space gives the impression of a Christian church.

___


Interior and dome of Caravanserai
Since Turks were originally nomads in Central Asia, they had not developed architectural culture as people of permanent settlements based on agriculture had, possessing no skills of construction. In spite of that, they settled in Anatolia and began to construct necessary buildings; they had to rely on indigenous architects and builders who held techniques of the regions.
It was Syrians and Armenians who had greatly developed stone architecture in the Middle East. Since Armenians had scattered there due to the loss of their fatherland by the maelstrom of wars, it was inevitable that this architectural nation bore the role of construction for the burgeoning Seljukid Dynasty.
Precisely for this reason Armenians, who were the first to establish Christianity as a state religion and highly developed their church architecture, led in the construction of Seljukid buildings, their caravanserais came to posses the style similar to Armenian churches.
(In "Architecture of Islam" 2006)
BACK
NEXT
© Takeo Kamiya
E-mail to: kamiya@t.email.ne.jp