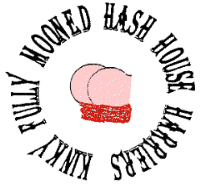 Kinky Fully Mooned
Hash House Harriers
(KFMH3)





Note!
With a fourth wave of Covid-19 increasing infections in Osaka city to over 1,000 new cases a day, Mis-Management have reluctantly taken the decision to suspend all meetings of Kinky Fully Mooned H3 for the time being.
Resumption of meetings will be announced here as soon as decided. Stay safe, hashers!


Welcome, visitor number
to the Web site of the Kinky Fully Mooned H3, a West Japan-based kennel of the world-wide Hash House Harriers.

We meet, run and drink around the Kansai area of Japan (also approximately the "Kinki" area — and we couldn't resist abusing adopting that name!) once a month on the Sunday nearest the full moon. During summer, if there is a special occasion, we will meet on a Sunday nearest the new moon as well.

Confirmed mooning dates and places are shown here. Proposed mooning dates are shown in the 2020 Moon Almanac.

For more information contact a member of the Mis-management committee.

Make a note!
KFMH3 meets from 3:00 p.m. onwards for a 3:30 start! (Vistors: We're not a prompt hash, so please spare us 15 minutes of your time before giving up and leaving!)


Obituary: Occhan Hole Hunter
It is with great sadness we report the passing of KFMH3 hasher and Hare Razor Occhan Hole Hunter.
OHH took a hard blow to his head while sailing his yacht on Sunday 21st March. Despite the best efforts of crew members, also hashers and experienced sailors, he did not survive.
A wake was held on Tuesday 23rd March and his funeral days after, however, his family requested to keep both as family-only events. Instead, raise a glass of beer to him at your next hash.
A remembrance hash will be held for OHH on 25th April, meeting at Tugboat Taisho, Osaka. See below for details.
At the start of the Circle of the KFMH3 hash on 28th March, a minute's silence was observed followed by a Pack Down-Down in his honour.
On-home, Occhan Hole Hunter, now hashing with G
Next KFMH3 Run

Run#443 Sunday 25th April               >>>   Postponed until further notice   <<<
"Occhan Hole Hunter Memorial Hash"
Station: Taisho (JR Loop Line and Osaka Metro Nagahori Tsurumi-Ryokuchi Line)
Meet: None
Place: Tugboat Taisho タグボート大正 (100 metres north of Exit 4 of the station)
Map: Here
Run/walk/crawl: Later
Hare: Blue Cherry Boy
KFMH3 Mis-Management have reluctantly decided to postpone this event until the current forth wave of Covid-19 infections has subsided. In that way many more hashers who wish to pay their respects to OHH will be able to attend in safety and without having to chance or worry about becoming infected.

Many hashers were shocked and saddened to hear of the early passing of Occhan Hole Hunter in a yachting accident on 21st March. Today we will gather to honour him. Moon Master Blue Cherry Boy has volunteered to hare a trail close to the waterways where OHH used to love to go stand up paddling.
Out-of-town hashers who wish to attend are most welcome here. However, before you decide to cum, please consider your situation and condition. Covid-19 is still around and OHH would not have wanted you to endanger yourselves or your family.
We will meet at Tugboat Taisho, where we can leave our bags while on trail. The Circle will be held near Tugboat Taisho at Taishobashi Park 大正橋公園 here.
After the Circle, we will of course return to Tugboat Taisho, which is a suitably safe, open-air izakaya, for the On-In (another activity that OHH enjoyed!).


Next Kyoto H3 Run
Check the Kyoto H3 page here.


Call For KFMH3 Hares!
Not sure the last time you hared for KFMH3? Check the Receding Hareline and find out! See how many time you've done it since 1994!!!
Then contact the Hare Razor, Occhan Hole Hunter, and volunteer. No, not "later", Do It NOW!


KFMH3 2020 Up-Cuming Runs

Run#444 Sunday 23rd May
"On All Fours?!"
Station: Takatsukishi (Hankyu Kyoto Line)
Meet: None
Place: Top of the stairs opposite the ticket wicket
Run/walk/crawl: Later
Hare: Slimie Limie
It's run number 444, so Slimie Limie gets on his to lay a trail. A commemorative T-shirt will be sold!
More details later!



Run#445 Sunday 27th June
"West Osaka Tour?!"
Station: TBA (Some line going somewhere)
Meet: None
Place: TBC
Run/walk/crawl: Later
Hare: Chemical Smile
Hare Ero Massage
More details soon!



Run#446 Sunday 25th July
"Be A Kinky Hare!"
Station: You choose! (Some line going somewhere)
Meet: None
Place: Near your station?
Run/walk/crawl: Later
Hare: You!
Who wants to hare for KFMH3? Volunteer, puleaze!



---
Mis-Management 2020

Moon Master
Blue Cherry Boy
090-1483-9989
Hash Cash
Pink Fundoshi
090-3053-4387
Hare Razor
Occhan Hole Hunter
Hash Horn
Dances with Sheep
090-7111-7900
Wired Sex
Slimie Limie
090-4284-3736

(Remove the [spam-off!] from the address before sending e-mail.)
---
Page last assaulted by Slimie Limie on 19 April 2021
Anything else you'd like to see on this site? Let Slimie Limie know!
---
© 1998–2021 Chisaii Neko Productions