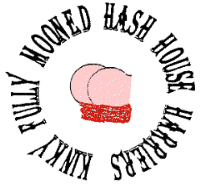 Kinky Fully Mooned
Hash House Harriers
(KFMH3)





Note!
As of 27th June 2021, KFMH3 meetings resume!
However, Covid-19 is still amongst us and new variants are even more dangerous for those not yet inoculated. And bear in mind, hashers, even two weeks after yer second jab, you can still catch Covid-19! (Tho' the symptoms won't be as severe... at least you shouldn't be hospitalised... or... die.)
As a result of this, KFMH3 Mis-Management has advised future Hares not to arrange an official On-In for the Pack. If hashers want to go someplace themselves or continue drinking after the Circle, that's up to them.
Stay safe, hashers!


Welcome, visitor number
to the Web site of the Kinky Fully Mooned H3, a West Japan-based kennel of the world-wide Hash House Harriers.

We meet, run and drink around the Kansai area of Japan (also approximately the "Kinki" area — and we couldn't resist abusing adopting that name!) once a month on the Sunday nearest the full moon. During summer, if there is a special occasion, we will meet on a Sunday nearest the new moon as well.

Confirmed mooning dates and places are shown here. Proposed mooning dates are shown in the 2020 Moon Almanac.

For more information contact a member of the Mis-management committee.

Make a note!
KFMH3 meets from 3:00 p.m. onwards for a 3:30 start! (Vistors: We're not a prompt hash, so please spare us 15 minutes of your time before giving up and leaving!)



Next KFMH3 Run

Run#444 Sunday 25th July
"On All Fours?!"
Station: Takatsukishi (Hankyu Kyoto Line)
Meet: 3:00 p.m.
Place: Takatsuki Castle Tower, Takatsukijo Park (800 m south of station, about 12 minutes' walk)
Map: Here
Run/walk/crawl:  3:30 p.m.
Hare: Slimie Limie
It's run number 444, so Slimie Limie gets on his four paws to lay a trail around his neighbourhood. But, fear not, previous visitors to Takatsuki; it's 90% new to all hashers bar one! And mostly new even to him!
A commemorative T-shirt will be available (only 30 — get yours soon!), subsidised by Hash Cash, so only ¥2,000!
Note that the meeting place is a good 12 minutes' ziggy-zaggy walk from the station, so take an earlier train than you might usually.
The unofficial On-In will be dependent on Covid-19 restrictions in force on the day. At a newly-opened izakaya near the station? At one of two craft-beer burger bars? Or hit up a nearby combini and continue drinking open-air in the park!


Next Kyoto H3 Run
Check the Kyoto H3 page here.


Call For KFMH3 Hares!
Not sure the last time you hared for KFMH3? Check the Receding Hareline and find out! See how many time you've done it since 1994!!!
Then contact the Hare Razor, Occhan Hole Hunter, and volunteer. No, not "later", Do It NOW!


KFMH3 2020 Up-Cuming Runs

Run#445 Sunday 22nd August               >>>   Provisional!   <<<
"Be A Kinky Hare!"
Station: You choose! (Some line going somewhere)
Meet: 3:00 p.m.
Place: Near your station?
Run/walk/crawl: 3:30 p.m.
Hare: You!
Who wants to hare for KFMH3? Volunteer, puleaze!



---
Mis-Management 2020

Moon Master
Blue Cherry Boy
090-1483-9989
Hash Cash
Pink Fundoshi
090-3053-4387
Hare Razor
Occhan Hole Hunter
Hash Horn
Dances with Sheep
090-7111-7900
Wired Sex
Slimie Limie
090-4284-3736

(Remove the [spam-off!] from the address before sending e-mail.)
---
Page last assaulted by Slimie Limie on 3 July 2021
Anything else you'd like to see on this site? Let Slimie Limie know!
---
© 1998–2021 Chisaii Neko Productions