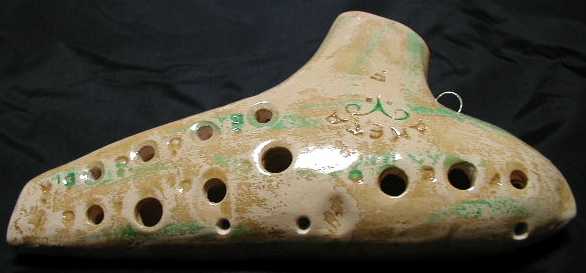 Aketa used to produce T-14C and T-4F models. They are called 'doublet' because there are two sound holes (voicing) and chambers. It is two Ocarinas combined in one.
.The photos are T-4F taken from different angles. T-14C looks similar but larger than T-4F and the sound is lower. Following explanation is about T-4F.
@
@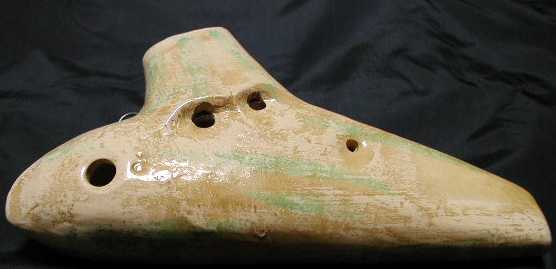 The chamber for the lower tones has 11 tone holes. Ten in front and one in back. The sound ranges from C to G (C-C-G). Three small tone holes are for lower C, D, and E. There is no low C# and low D# in the fingering diagram. From F (the ocarina's basic tone) to high G, it can make chromatic scale.
The other chamber for the higher tones has 6 tone holes. Four in front, one in back and one at side. The sound ranges from G# to F (chromatic scale). Only the right hand is used to close these holes.
@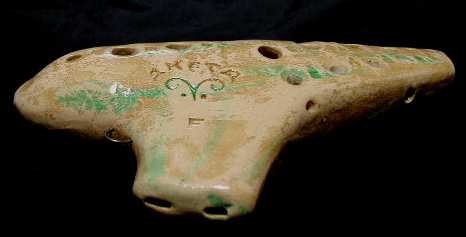 There is another hole at side near the end of the instrument which does not appear in the fingering diagram. I assume this hole is used to balance the tuning of two ocarinas.
When combined, it can make 2 octaves and a half, which is the widest sound range for ocarina as far as I know.
@
I never can play this ocarina very well. You have to go back and forth between two mouth-pieces quickly to play a song smoothly. The fingering is somewhat similar to a regular 12-hole model for lower ocarina. Another difficulty is that you have to move your right hand from the lower chamber to the higher chamber.
Unfortunately, Aketa stopped producing these models.
10 holes@(Japanese only) and STL Ocarinasell double and triple ocarinas.
Performance by Triple ocarina
U-tube (Hungarian Dance)
U-tube (Super Marioj
U-tube (Cannon Rock)
@
@