echolink(Dec.11th 2003)
---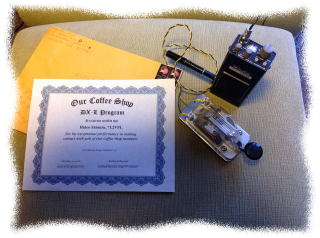 DX-L50 Program Cirtification /Nov.20th 2016
My Number #15, CTF APPR on 10-31-2016, CTF ISSD on 11-14-2016
RULES
We must contact 50% of the members of OUR COFFEE SHOP/KB4SVP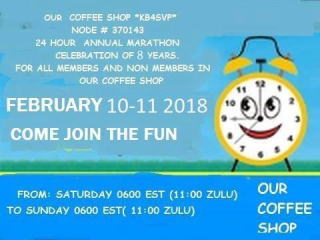 ---

---

My Echolink System

PC:IBM Aptiva-e6j
CPU:celeron 400MHz
OS:Fedora8 / Linux
SoftWare:SvxLink




 


SvxLink Server / Fedora8 Linux at home
DeskTop is IBM Aptiva-e6j, very old one


SvxLink Server / Fedora8 Linux at home

Above PC had been often freezed and celeron 400MHz is much slow for up-dated software. that' why I was intended to use another newer PC. but Linux bring back to his life.for more information of my EchoLink System by old old PC under Linux,Fedora8.
One more Japanese site is here.

current users of SvxLink server and Qtel from all over the world




---

Dell Inspiron1150
Intel Celeron 2.4GHz
chash 128KB
Memory 512MB
Video Controller Intel 852GM/GME/GMV
Display 15" XGA
Audio Controller Sigmatel 9750
Hard Drive 40GB
Original OS:WindowsXP Pro SP1
***without Seriel port***

Dell Inspiron1150
under Linux, ubuntu9.04 and Puppy Linux4.12

Qtel QT-EchoLink Client/under Linux



SvxLink Server / Puppy Linux

Qtel QT-EchoLink Client/under Linux

---

Dell Inspiron8200
Mobile Intel Pentium4 2GHz Processor
Level 2 chash 512KB
System Memory 512MB
Display 15"U XGA 1600*1200dpi
Primary Hard Drive 60GB Ultra ATA100 HDD
Modular Bay CD-RW/DVD Combo
Original OS:WindowsXP Home Edition
--- with Seriel Port(COMport)---


I think having seriel Port is a big advantage
for a node PC.
Above inpiron1150 has no COMport.
so I had to use USB-Seriel converter.
but sounds were not good with lots of noise.
I pull the seriel plug for test, sounds became better.

I tried to use another PC with COMport
(inspiron8200).
then the noise was less than the PC with USB-Serial unit.


Portable Node

Portable Node

Portable Node


Interface

Link Radio

Interface

Interface

SvxLink Server

---


I had tried to replace a ptt-transister of an interface to a relay contact
in order to use a usb-serial converter.
That's why I wanted to use a pc without a serial port.
I wanted to reduce noises from the serial-line of Echolink interface.
I thought, Isolation of serial-line might be effective for reducing noises.
I feel like noise level became smaller than before.
---

1st QSO on EchoLink
Echolink 1st contact はVO1CAL / Mr. Calvin Janes(Pool's Island, CANADA)
Echolink 2nd contact は英国のG0DMAで下の画面コピーはその時のもの。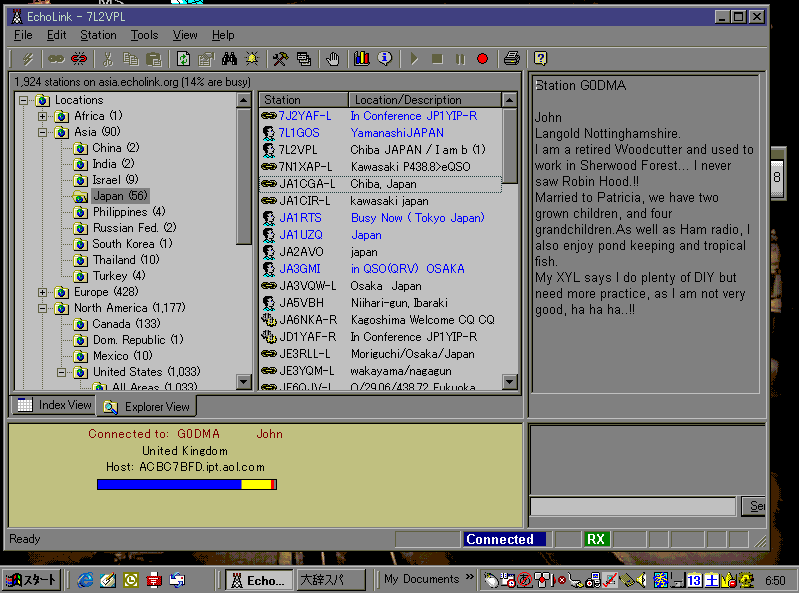 INDEX


My CW Project on EchoLink by Straight key and Osillator

■CW QSO on EchoLink (2004/02/04)
I connected an osillator to MIC input. We can send and receive morse code on EchoLink.
外部発振器の出力をコンピュータのMIC INに接続してCWトーンを入力してやればCWの交信ができます。
CWComで知り合ったVK2IAUがオンラインになっていましたのでコールしてみました。彼はeQSOでMORSENET1のROOMを開設しています。
VK2IAU JOHN is my 1st CW STN on EchoLink. Tnx fer JOHN
My 1st CW QSO on EchoLink
Call Sign
Entity
MODE
Date
Time/JST
Remarks
VK2IAU
Australia
CW/EchoLink
2004/02/04
07:22
Tnx fer CW QSO on EchoLink, JOHN
This was my 1st CW QSO on EchoLink.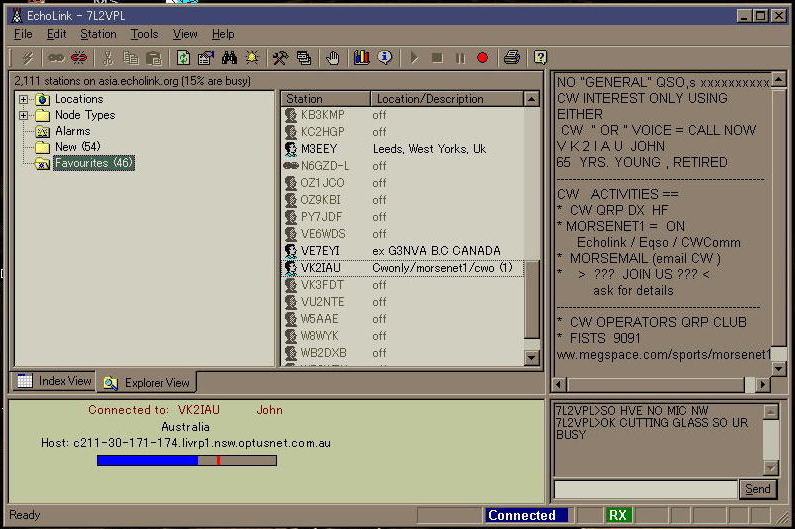 外部発振器の回路 Osillator is twin-T AF OSC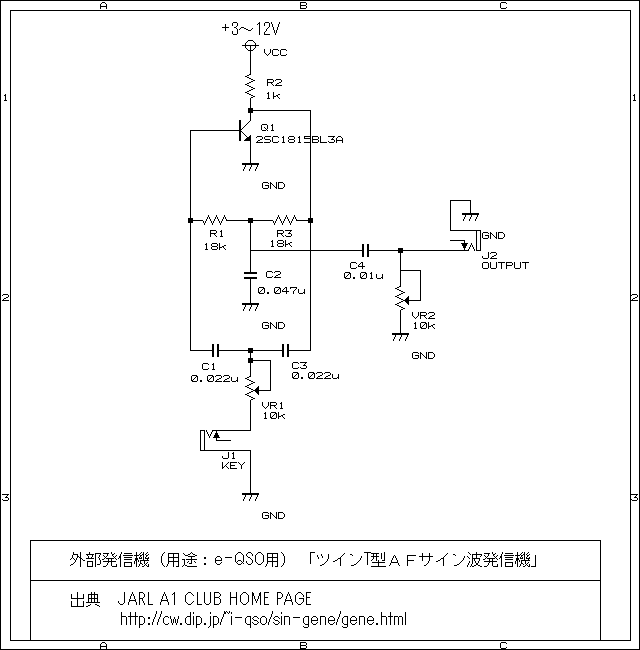 外部発振器の外観 OSC and my straight key.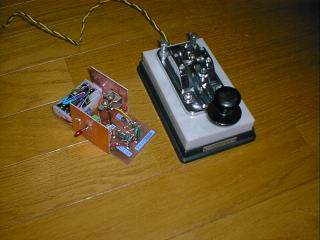 外部発振器単体での動作試験
消費電流:Electricity Consumption 2.1mA/Vcc3.0V
電鍵を押していないときの各部電圧(発振停止時)
Vce 0.8V/at key up(off)
Vbe 0.6V/at key up(off)
発振周波数の可変範囲:OSC Freq: 400〜1800Hz
出力電圧の調整範囲:
Output: 30mV〜130mV(70mVにセット)

右の写真は動作確認中の発振器出力
出力電圧p-p110mV、周波数791Hz /Sep.11 2003
| | | |
| --- | --- | --- |
| ThinkPadのMIC INに接続した発振器の出力を調整してトーンの最良点を見つけたら出力電圧はP-Pで23mV、周波数は784Hzでした。プローブは1:10を使用。 | | Dec.06 2003 |
■パソコン接続用の周辺機器
モノラル→ステレオ変換プラグ
ThinkPadのMIC INジャックとPHONEジャックはステレオタイプです。外部発振器の出力ケーブルにはモノラルプラグをつけています。モノプラグを直接MIC INに接続してもThinkPadの場合は問題ありませんでしたがこの変換プラグが一つあると便利です。写真の左側がモノラル入力側でRとLとに分かれています、右側はステレオタイプの出力プラグになっています。

試しに使ってみるとThinkPadの場合はL入力に接続すると発振器出力をパソコンに取り込めましたがR入力では何も音がでませんでした。


モノラル→ステレオ変換プラグ
Dec.06 2003

 INDEX


My CW Project on EchoLink by Homemade Paddle key and Osillator
Apr.2008

| | | |
| --- | --- | --- |
| osillator | | keyer |
| code practice equipments | | homebrew paddle |

 INDEX

---