Enhanced Feed Preview
Overview
Enhanced Feed Preview is a Firefox extension proposed at "Another 朝顔日記 - Enhanced Feed Preview" (written in Japanese). It shows feeds using author style sheets insted of Firefox built-in Feed View if they have style sheets.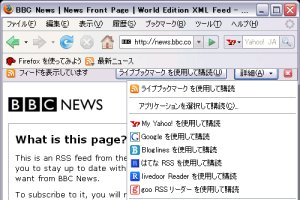 If a feed has author style sheets, show the feed using it.
Otherwise, show the feed using Firefox built-in Feed Preview.
Show subscription message for the feeds which have author style sheets.
Once you subscribe a feed, the subscription message for the feed won't be shown.
You can show the subscription message again through options.
Download
Compatible with: Firefox 2.0 - 3.0a3
Included locales: en-US, fr-FR, it-IT, ja, nl-NL, pt-BR, ru-RU, zh-CN
History
New: Brazilian Portuguese (pt-BR) locale by humbertosartini.
New: Dutch (nl-NL) locale by markh.
New: Italian (it-IT) locale by MatrixIsAllOver and l0stintranslation.
New: Russian (ru-RU) locale by Quicksilver tears.
New: French (fr-FR) locale by myahoo.
New: Simplified Chinese (zh-CN) locale by WangKing.
Updated: Compatible with Firefox 3.0a3.

Fixed: Multiple notification bars may appear if opening same feed in multiple windows.
Improved: English (en-US) locale.
Improved: Extension icon.

Improved: Some messages, menu items and etc.
New: Extension icon.
Fixed: Stops working when you reload a feed with notification bar shown.
Fixed: The title of "Choose Application" dialog.
New: Firefox 3.0a2 support.
New: English (en-US) locale.