Day 1: June 2 and 3
Topics
This page contains small thumbnail photos. Click on any thumbnail, you can see the larger one.
Go to "Day 2"
Return to "Table of Contents"
---
Before departure, I went to "The Suitengu Shrine". I prayed to God for a safe travel. "The Suitengu Shrine" is near Tokyo City Air Terminal (TCAT, pronounced tee-cat). It takes only 2 minutes on foot.
Back to Topics
---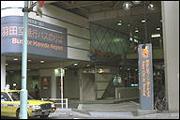 Photo:
Tokyo City Air Terminal
In TCAT, I went to Northwest Airlines counter. And I heard that my flight was late. The news gave me a shock. A Northwest clerk made an apology and gave me 500 Japanese Yen drink coupon.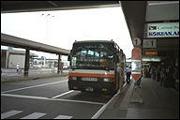 Photo:
Airport Limousine
After checking in, I met my friend Ms. Koh. We bought airport limousine ticket (2,900 Yen) and airport tax ticket (2,040 Yen). Then, we took Passport Control and went to New Tokyo International Airport (Narita) by airport limousine.
Back to Topics
---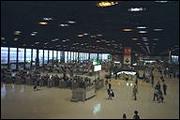 Photo:
Terminal 1, Narita Airport
In Narita Airport, we went to a restaurant at Terminal 1. I ate Japanese buckwheat noodles, "soba" (1,025 Yen). The restaurant was available for the Northwest coupon. And we moved to departure gate.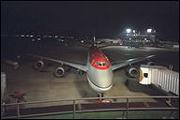 Photo:
Northwest Airplane
At 8:30 PM, we boarded an airplane. But it took off at 9:25 PM. After the meal, I tried to get to sleep, but I was wide awake. At 1:20 AM on June 3, we arrived at Bangkok International Airport (Don Muang) Terminal 2.
Back to Topics
---
We had reserved Day Rooms (Transit Room) at Terminal 2 before we left for Bangkok. However, they were already full. We had to move to another Day Rooms at Terminal 1 with other guests. Their costs were either 46 US Dollars or 1,400 Thai Baht per 4 hours. They accepted cash only (US Dollar, Thai Baht, or Japanese Yen, etc.). We were short of Thai Baht. We paid the rest on Japanese Yen. At 2:30 AM, We checked in.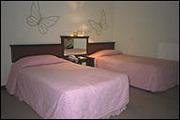 Photo:
Bedroom, Day Rooms
The Room was clean. There was toothbrushes, shampoos, soap, and bath towels. I took a shower. We were so tired that we went to bed as soon as we lay down.
Go to "Day 2"
Return to "Table of Contents"
---
Copyright © 1998-1999 Mayumi Watanabe All Rights Reserved.

Feedback
M.W's_SITE_English