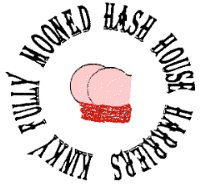 Kinky Fully Mooned
Hash House Harriers
(KFMH3)





Note!
On 6th September, KFMH3 resumed meetings and trails!
Hashers... Covid-19 is still out there and still a nasty virus that nobody wants to catch (ask my cousin in the UK...).
During the current State of Emergency until 7th February, KFMH3 will run trail, have a Circle, then go our separate ways.
Please be careful to observe social distancing at all times!


Welcome, visitor number
to the Web site of the Kinky Fully Mooned H3, a West Japan-based kennel of the world-wide Hash House Harriers.

We meet, run and drink around the Kansai area of Japan (also approximately the "Kinki" area — and we couldn't resist abusing adopting that name!) once a month on the Sunday nearest the full moon. During summer, if there is a special occasion, we will meet on a Sunday nearest the new moon as well.

Confirmed mooning dates and places are shown here. Proposed mooning dates are shown in the 2020 Moon Almanac.

For more information contact a member of the Mis-management committee.

Make a note!
KFMH3 meets from 3:00 p.m. onwards for a 3:30 start! (Vistors: We're not a prompt hash, so please spare us 15 minutes of your time before giving up and leaving!)


Next KFMH3 Run

Run#440 Sunday 31st January
"Shinenkai With New Moon Master!"
Station: Osakajokoen (JR Circle Line)
Meet: 3:00 p.m.
Place: At the top of the stairs in front of Exit 2
Run/walk/crawl: 3:30 p.m.
Hare: Blue Cherry Boy
Salute the new Moon Master, Blue Cherry Boy! Today he invites the Pack for a trot around Osaka Castle Park.
After the Circle, for the On-In, we were planning on going to "Izakaya Toyo", at the Hare's recommendation. This funky place used to be closed on Sundays, but these days it's open any time the manager feels like it.... However, with another State of Emergency declared, hashers should take care of themselves!


Next Kyoto H3 Run
Check the Kyoto H3 page here.


Call For KFMH3 Hares!
Not sure the last time you hared for KFMH3? Check the Receding Hareline and find out! See how many time you've done it since 1994!!!
Then contact the Hare Razor, Occhan Hole Hunter, and volunteer. No, not "later", Do It NOW!


KFMH3 2020 Up-Cuming Runs

Run#441 Sunday 28th February
"A Different Birthday Boy!"
Station: TBA (Some line going somewhere)
Meet: 3:00 p.m.
Place: TBC
Run/walk/crawl: 3:30 p.m.
Hare: Pink Fundoshi
Merely two months after his last haring, Pink Fundoshi throws down more flour to celebrate his birthday! More details later!



Run#442 Sunday 28th March
"Be A Kinky Hare!"
Station: You choose! (Some line going somewhere)
Meet: 3:00 p.m.
Place: Near your station?
Run/walk/crawl: 3:30 p.m.
Hare: You!
Who wants to hare for KFMH3? Volunteer, puleaze!



---
Mis-Management 2020

Moon Master
Blue Cherry Boy
090-1483-9989
Hash Cash
Pink Fundoshi
090-3053-4387
Hare Razor
Occhan Hole Hunter
Hash Horn
Dances with Sheep
090-7111-7900
Wired Sex
Slimie Limie
090-4284-3736

(Remove the [spam-off!] from the address before sending e-mail.)
---
Page last assaulted by Slimie Limie on 17 January 2021
Anything else you'd like to see on this site? Let Slimie Limie know!
---
© 1998–2021 Chisaii Neko Productions