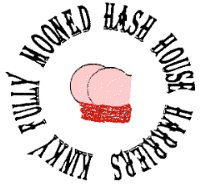 Kinky Fully Mooned
Hash House Harriers
(KFMH3)





Note!
2nd August meeting is cancelled!
Hashers... Covid-19 is still out there and still a nasty virus that nobody wants to catch (ask my cousin in the UK...).
Please be careful to observe social distancing at all times!


Welcome, visitor number
to the Web site of the Kinky Fully Mooned H3, a West Japan-based kennel of the world-wide Hash House Harriers.

We meet, run and drink around the Kansai area of Japan (also approximately the "Kinki" area — and we couldn't resist abusing adopting that name!) once a month on the Sunday nearest the full moon. During summer, if there is a special occasion, we will meet on a Sunday nearest the new moon as well.

Confirmed mooning dates and places are shown here. Proposed mooning dates are shown in the 2020 Moon Almanac.

For more information contact a member of the Mis-management committee.

Make a note!
KFMH3 meets from 3:00 p.m. onwards for a 3:30 start! (Vistors: We're not a prompt hash, so please spare us 15 minutes of your time before giving up and leaving!)


Next KFMH3 Run

Run#435 Sunday 2nd August                    >>>   Cancelled due to Covid-19 yellow alert!   <<<
"Don't Trash Celebrate A New Apartment!"
Station: Not Nakatsu (Not Osaka Metro Midosuji Line)
Meet: Not 3:00 p.m.
Place: Don't follow arrows to the Central Mark Tower, then don't go to the 24th-floor guest room
Run/walk/crawl: Not 3:30 p.m.
Dress code: Not Pink! (Don't wear the 1st Anniversary tee-shirt!)
Hare: Not Noripoo (ANA Doko Manko Jackson)
Cohare: Not Doko Chinko Jackson
Cohare: Not Doko Oppai Jackson
All this week, new cases of Covid-19 have been increasing in Japan, and particularly so in Osaka. The prefectural governor finally declared a "yellow" alert — meaning no group gatherings of five or more people. As a result, KFMH3 Mis-Management and the Hares decided it would be best to cancel today's hash. We hope we can meet again in September!
Today's Hare, Noripoo, and family were due to celebrate Cherry Blossoms with an Ohanami trail back in April but got... interrupted.
Instead, today they celebrate recently (well, a month or two ago by now...) moving to a new apartment! It's also the happy couple's 2nd wedding anniversary. They request hashers wear the 1st wedding anniversary tee-shirt, or if you don't have one, cum in pink!
On-In is in the guest room and costs ¥3,000.
Check the KFMH3 private FB Group or message Noripoo for the door code.


Next Kyoto H3 Run
Check the Kyoto H3 page here.


Call For KFMH3 Hares!
Not sure the last time you hared for KFMH3? Check the Receding Hareline and find out! See how many time you've done it since 1994!!!
Then contact the Hare Razor, Occhan Hole Hunter, and volunteer. No, not "later", Do It NOW!


KFMH3 2020 Up-Cuming Runs

Run#435 Sunday 6th September                  >>>   Subject to confirmation!   <<<
"Be A Kinky Hare!"
Station: You choose! (Some line going somewhere)
Meet: 3:00 p.m.
Place: Near your station?
Run/walk/crawl: 3:30 p.m.
Hare: You!
Check the Receding Hareline and if you haven't hared in a while, feel free to volunteer!



---
Mis-Management 2020

Moon Master
Pink Fundoshi
090-3053-4387
Hash Cash
Pink Fundoshi
090-3053-4387
Hare Razor
Occhan Hole Hunter
???-????-????
Hash Horn
Dances with Sheep
090-7111-7900
Wired Sex
Slimie Limie
090-4284-3736

(Remove the [spam-off!] from the address before sending e-mail.)
---
Page last assaulted by Slimie Limie on 31 July 2020
Anything else you'd like to see on this site? Let Slimie Limie know!
---
© 1998–2020 Chisaii Neko Productions