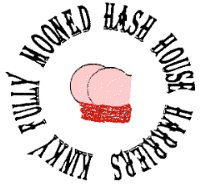 Kinky Fully Mooned
Hash House Harriers
(KFMH3)





Welcome, visitor number
to the Web site of the Kinky Fully Mooned H3, a West Japan-based kennel of the world-wide Hash House Harriers.

We meet, run and drink around the Kansai area (also approximately the "Kinki" area) of Japan once a month on the Sunday nearest the full moon. During summer, if there is a special occasion, we will meet on a Sunday nearest the new moon as well.

Confirmed mooning dates and places are shown here. Proposed mooning dates are shown in the 2019 Moon Almanac.

For more information contact a member of the Mis-management committee.

Make a note!
KFMH3 meets from 3:00 pm onwards (vistors: spare us 15 minutes of your time before giving up and leaving!) for a 3:30 start!


Next KFMH3 Run

Run#420 Sunday 17th February
"Is He Still Alive?!"
Station: TBA (Some line going somewhere)
Meet: 3:00 pm
Place: Near a station
Run/walk/crawl: 3:30 pm
Hare: Slimie Limie
Run 420 brings another Slimie Limie birthday trail. But is he 420 years old yet? Not quite. 42? He wishes....
So, which craft-beer pub will the On-In be at this year?


Next Kyoto H3 Run
Check the Kyoto H3 page here.


Call For KFMH3 Hares!
Not sure the last time you hared for KFMH3? Check the Receding Hareline and find out! See how many time you've done it since 1994!!!
Then contact the Hare Razor, Delhi Belly, and volunteer. No, not "later", Do It NOW!


KFMH3 2019 Up-Cuming Runs

Run#420 Sunday 24th March
"Be A Kinky Hare!"
Station: You choose! (Some line going somewhere)
Meet: 3:00 pm
Place: Near your station?
Run/walk/crawl: 3:30 pm
Hare: You!
Check the Receding Hareline and if you haven't hared in a while, feel free to volunteer!



---

A big "thank you" to all departing KFMH3 Mis-Management members for your efforts over the past year(s)!
Welcome back to the Mis-Management Committee the hasher re-erected on 23rd December 2018! And a "ta very much" to those continuing!
With everyone's help, here's wishing for an enjoyable year's hashing in 2019.


Mis-Management 2019

Moon Master
Dogfucked
080-4644-0644
Hash Cash
Pink Fundoshi
???-????-????
Hare Razor
Occhan Hole Hunter
???-????-????
Hash Horn
Dances with Sheep
090-7111-7900
Wired Sex
Slimie Limie
072-676-2869

(Remove the [spam-off!] from the address before sending e-mail.)


A note to KFMH3 hashers past and present:
Since a year after its flounding on 19th September 1994, KFMH3 has kept the tradition of Mis-Management Erections being held on its analversary. But, this has sometimes led to snafus ranging from forgetting to hold erections to hashers not knowing when to give up or assume duties. Furthermore, in September 2013, most of the KFMH3 Mis-Management were too busy mis-organising Zen NippOn-On to be held in October and had no time to hold a KFMH3 erection so let it slide. Subsequent to this, during an impromptu Mis-Management meeting on the 15th December KFMH3 run, we decided to change our system and from now on have Anal Erections in December at the Bonenkai run. Positions will be assumed from January at the Shinenkai run.


---
Page last assaulted by Slimie Limie on 18 January 2019
Anything else you'd like to see on this site? Let Slimie Limie know!
---
© 1998–2019 Chisaii Neko Productions