Virtual tours of secondary schools in various countries
---
Are you interested in secondary schools in foreign countries? Have you ever visited any foreign schools, observed classes and talked with the teachers and students there? That is very interesting and rewarding, and it would be very wonderful to get such chances in person through exchanging mail with teachers of other countries.
This page is provided in order to introduce recommendable secondary school websites in various countries. You could take a virtual tour of secondary schools just by sitting in front of your computer and clicking the mouse. I have tried posting websites that introduce the students' life at school and their annual school events. Besides, I will introduce schools I actually visited myself with several pictures I took during my visit.
I would appreciate it if you would introduce your recommendable secondary school websites and/or send by mail several pictures about the school you actually visited or you are currently working for, with a brief introduction of the school and explanation for each picture. Please and send your information and pictures. I will add them to this page later. When you send, please don't forget to give me your name, mail address and the name of the city, the state/province and the country you live in.
---
Sriwittayapaknam School
Located in Samut Prakan City, about 30km south of Bangkok. Private. The students are aged between 3 and 15. You can take an almost complete virtual tour of this school by checking out A Day at School in Thailand, which introduces their daily life at school with lots of pictures and explanations. [Stayed: August 6 through 10, 2001]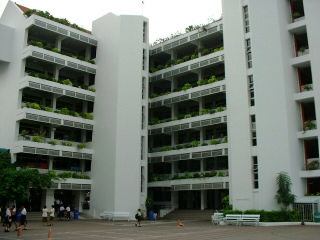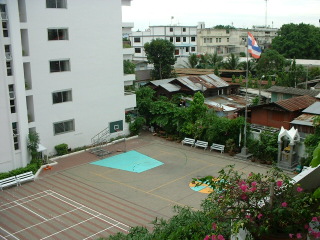 LEFT: Six-story school building with potted plants grown on its balconies on each floor
RIGHT: Playground where morning assembly is held at 8:00 every morning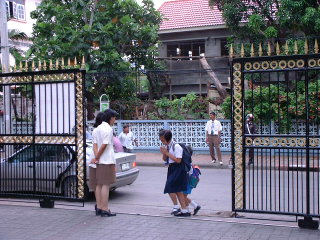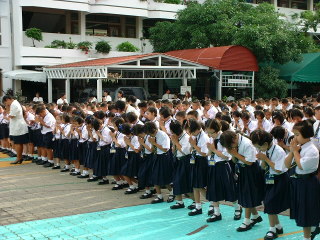 LEFT: Students 'wai' teachers on duty at the gate before they enter the school. They do this to show respect and also as a form of greeting.
RIGHT: They even wai during their prayer in the morning assembly. Some girl students curtsy.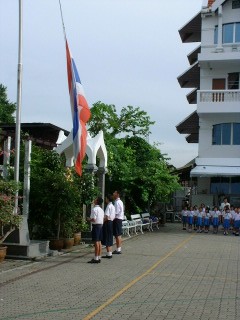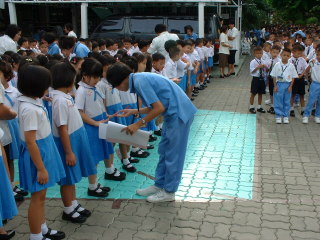 LEFT: Students on duty hoist Thai's national flag to the national anthem sung by all the students.
RIGHT: They have their nails inspected. These must be kept short and clean and senior students take charge of inspection.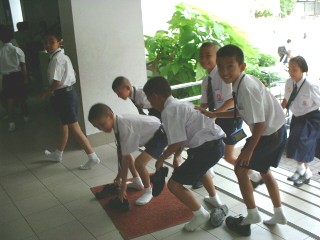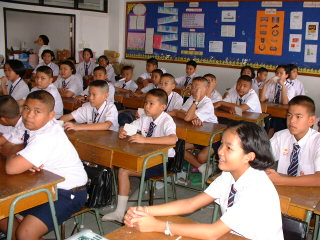 LEFT: Students are required to take off their shoes when they get into the school building and stay in the building without shoes on.
RIGHT: Primary 5 students in their classroom. Some of them are big; some are short.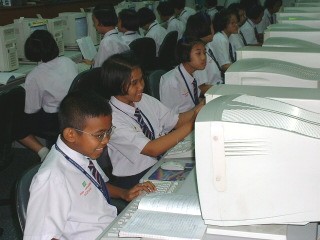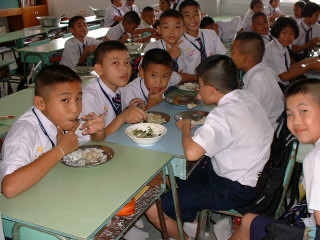 LEFT: Primary 6 students in the computer room. They are making their own website in English using a lot of graphics.
RIGHT: Primary 5 students enjoy eating lunch in their classroom.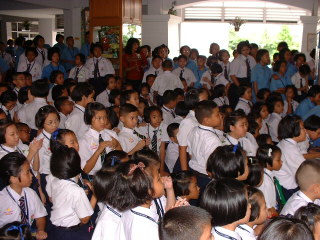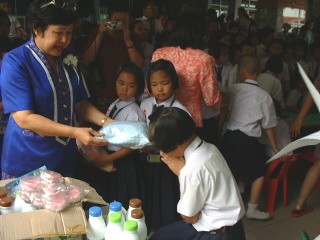 LEFT: Students gather in the lobby to listen to some students singing songs to karaoke during lunch break.
RIGHT: They also wai when they receive presents from their teachers.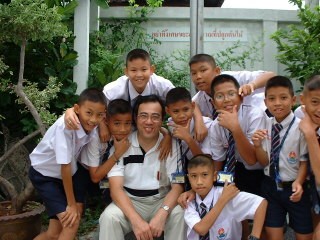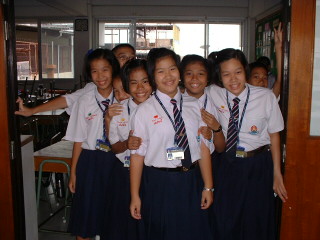 Students like to be taken pictures. Their smiles are very attractive.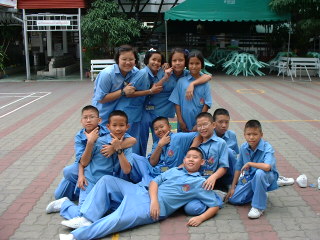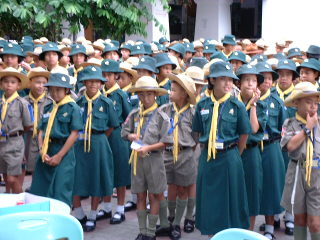 LEFT: Students in their sweat suits. They come to school in these suits when they have PE lessons.
RIGHT: Students in their scout uniforms. Every Thursday they have a scout activity and come to school in these uniforms.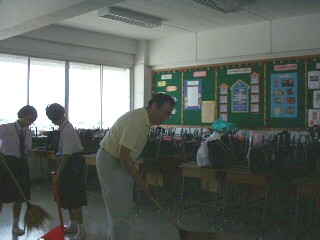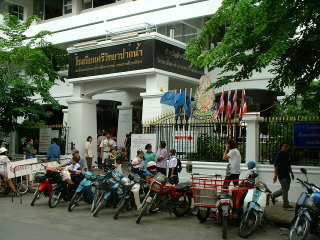 LEFT: Students are required to clean their classrooms after school. I helped Primary 6 students clean their room.
RIGHT: Parents wait for their kids in front of the school after school. Some of them take them in their car; others have them ride on their motorcycle, one in front another in the back, as the motorcycle is more convenient to run on crowded streets during rush hours.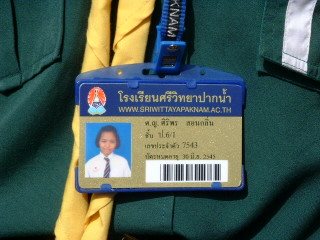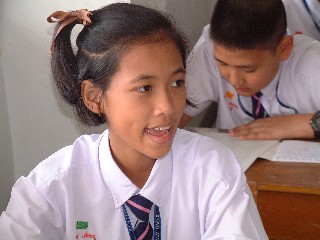 LEFT: Students hang their own ID card from their neck. They even hang it in sweat suit during PE lessons.
RIGHT: You can see badges with some colors on the right side of the students' shirts. Each color indicates how students come to school; green shows students walk to school, yellow shows they come to school in their parent's car and red shows they come to school by bus.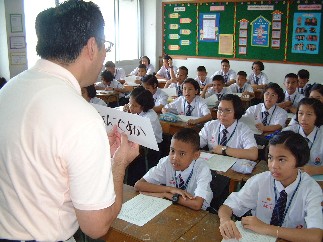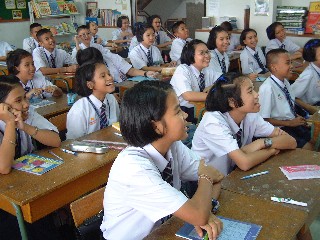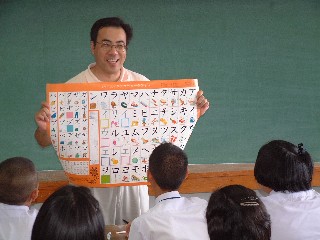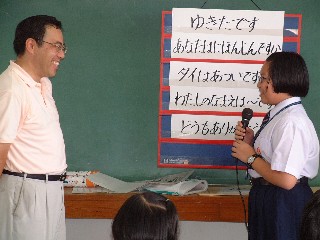 Luckily I had a chance to teach Japanese to the students. During my five-day stay at the school, I was asked to come to many classes to teach Japanese. I ended up teaching most of the classes from Primary 1 to Secondary 3. The students were very eager in learning Japanese and really enjoyed learning the language. You can learn some basic Japanese phrases with my voice recorded through Learning Japanese on this school's fabulous website.


Click to check out Sriwittayapaknam School's website



Samut Prakan School
Located in Samut Prakan City, about 30km south of Bangkok. Public. The students are aged between 13 and 18. It is a rather big school; each grade consists of 12 classes and that adds up to 72 altogether. Some of the graduates from Sriwittayapaknam School introduced above attend this school when they become 13 years old as the schools are not so far from each other and the fees of this school are lower. The school is one of the three schools in Samut Prakan that teaches Japanese as a regular subject. [Visited: August 13, 2004]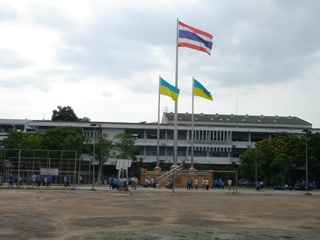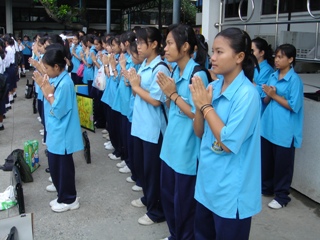 LEFT: School building with a big national flag hoisted
RIGHT: Chanting in the morning assembly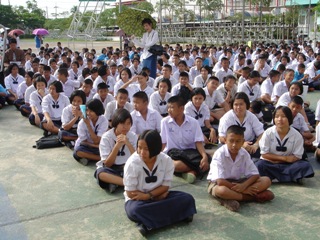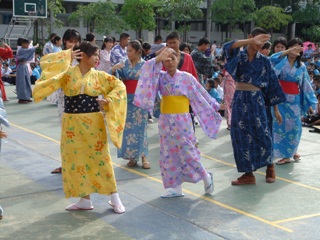 LEFT: Students are waiting for bon dance performed by the students studying Japanese in the morning assembly. Boys and girls sit with their legs crossed.
RIGHT: Students in kimono (Japanese traditional clothes) are performing Japanese bon dance in front of other students.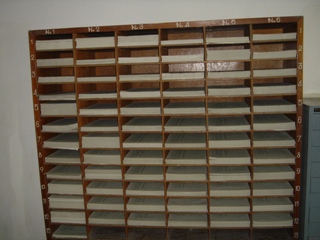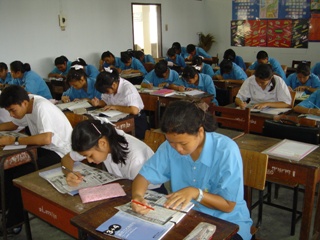 LEFT: Boxes are prepared for each class to put the list of the students. Each grade consists of 12 classes and that adds up to 72 altogether.
RIGHT: Students are working hard on the assignment I gave them in Japanese class.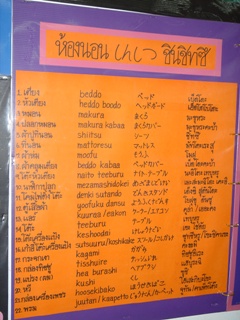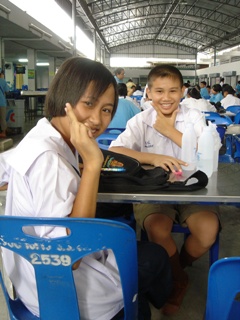 LEFT: A vocabulary list on 'bedroom' is posted on the wall of the Japanese classroom.
RIGHT: Friendly smile of Thai students. Boys like to put fingers under their chin when taken pictures.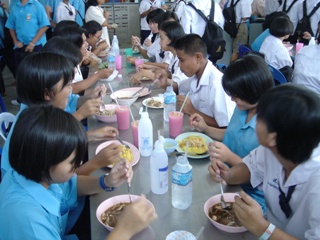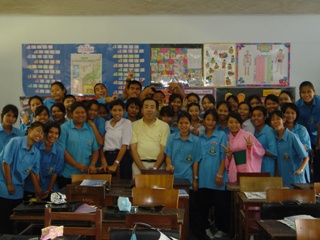 LEFT: Students enjoy eating lunch. Drinks are necessary as it is very hot and humid in summer. Thai students tend to buy plastic-bottled water.
RIGHT: Surrounded by the students studying Japanese. I taught them Japanese for nearly 90 minutes all by myself because their Japanese teacher got sick that day.









Back to the front page