GooSayTen Butoh Workshops in Sapporo 2017

---
Weekend Workshops

Weekend butoh workshops are held throughout the year.
(Saturday and Sunday with Friday and/or Monday when it is the national holiday)



DATE: November 25th(Sat) - 26th(Sun)

Time: 1500 - 2000


Fee: 10,000yen for 2 days (6,000yen for 1 day)
Venue: Mika Takeuchi Butoh Studio, Sapporo.
---

- for reference -
Intensive Butoh Workshop in May
May 3rd(Wed) - 7th(Sun) : 5 hours a day


*During the national holiday season called "Golden Week"



This is finished. Thank you.



Summer Butoh Workshops
We have determined out 5 day workshops in August as follow:

A) August 3th(Thu) - 7th(Mon) * The schedule changed.
B) August 20th(Sun) - 24th(Thu)

*Itto gives the explanations and instructions in English.
Please take a look at
itto's butoh related materials.
---
For reference :
Butoh Workshops in 2016
Three basic points in our workshop:

1) Authentic Butoh chreography (deconstruction of ordinary choreograpy).
2) Butoh for body psychotherapy.
3) Japanese Butoh history through old day's butoh videos.
* Hijikata, Kazuo Ohno, Sankaijuku, Youko Ashikawa(Hakutobo),
Hoppo-butoh-ha, Dairakudakan, Kobuzoku Altaic, GooSayTen, etc.
(in a 4 day or longer workshop)

Our Butoh workshop is based on physical training of/for butoh dance.
We have found that many participants learned imagery/imaginary exercises in Ohno studio in Yokohama, or etc., and
we have mainly given 15-20 body oriented butoh exercises.
(We take physical conditions, age, etc. of each participant into consideration.)


We offer you the opportunities for ...

- transcending the overly modernized or Westernized Butoh by restroing archaic factors.
- overcoming the ordinary ideas about the body/mind by experiencing Noguchi Taiso gymnastics/ physical exercises.
.





WORKSHOP FEES


A 4 day workshop : 24000yen (5 hours a day).
A 5 day workshop : 30000yen (5 hours a day).
A 6 day Workshop : 36000yen (5 hours a day).

* The fee does not include accommodations, meals, tranportations.
* Please pay in cash on the first day.
(Refundable only when the workshop is cancelled because of the organizer's reasons.)



WORKSHOP VENUE

Mika Takeuchi Butoh Studio "Goo"

[map]


EIWA Building 3rd floor.
Nijuyonken 3-4, Nishi-ku, Sapporo, Hokkaido prefecture, Japan
FAX. +81-11-671-5860

Sapporo is the capital city of the northernmost Hokkaido prefecture. The New Chitose airport is the nearest airport to Sapporo. It is about a 90 minute flight from Tokyo Haneda airport or Narita airport.
There is a JR train station under the New Chitose airport. It is safe and convenient to Sapporo (about 40 minutes).
From Sapporo JR station, take Nanboku-line subway (north-south line).
Change to Tozai-line (east-west line) at the next subway station "Odori Koen" (Odori park).
Get off at "Niju yonken" subway station of Tozai-line.
Walk along the street for 7-8 minutes to a four-storied building. Check the map.
APPLICATION

Let us know your basic background about butoh,dance,etc. with a brief note
about what you expect in our workshop.

*The maximum number of participant for each workshop is six .

* Itto Morita/T.Kasai
would like to offer these occasions to deepen your Butoh understanding one step further.
Our training is physically oriented although both of us are dance/movement psychotherapists.

We have accepted many guests from U.S.A, Canada, Mexico,Argentina, Brazil, Australia, U.K., Holland, France, Spain, Denmark, Germany, Austria, Italy, Poland, Greece, Israel, Singapore, and etc.
We are proud of giving substantial and dense Butoh workshops for years.
Itto Morita and Mika Takeuchi are looking forward to seeing you in Sapporo!



Itto has been performing since 1988
in more than 40 cities
around the world.
: a certified dance therapist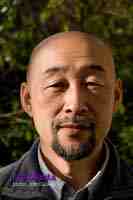 Mika performs elegantly/dreadfully on stage
: a certified dance therapist
having peaceful dance therapy programs
at mental clinics since 1999.