GooSayTen Butoh Workshops in Sapporo 2018

Summer Butoh Workshops
A) August 6th(Mon) - 10th(Fri) : 5 hours a day.
B) August 20th(Mon) - 24th(Fri) : 5 hours a day.
* The lesson starts at 1500, ends at 2000.
*Itto explains and gives instructions
in English throughout the workshop.

Please take a look at itto's butoh papers.

Our Butoh workshop is based on
body-mind physical training with butoh techniques.
Body-mind physical training is not a repetitive dull lesson, but actually a creative one where you can find a clue for a "mystical" connection between the physical experiences and mental/psychological shifts. For example, old days' "ganimata" or bow-legs exercise or a stoop exercise is not merely a physical one, but it is an occasion where you can find curses deeply engraved in your body-mind or in your own existence.
When Hijikata was a baby, he was pushed into a small cradle (made of straws), and left behid for hours far from his parents working in the rice field. When his parents came back, his both legs were totally numb and what he had to do first was to find where his legs are before standing. Hence, the bandy-legs implies grief, desperation, anger, negative blessing, etc.
* And, in the workshop, we will find out our own starting points for butoh...

When you look at the earth and extend one of your skewed arms downward, it can be a butoh movement if you try to push away invisible daemons and protect the world from them. And so on...

We will introduce those kind of physical/symbolic exercises (about 15-20 different ones) with English explanations based on the original/traditional Japanese Butoh.

Body-mind physical training in our workshop enables you to connect your ego again with the various factors deeply embedded in your body-mind physically, personally, culturally, historically...


We offer you the opportunities for ...
- transcending the overly modernized or Westernized Butoh by restroing archaic factors.
- overcoming the ordinary ideas about the body/mind by experiencing Noguchi Taiso gymnastics and body-mind therapies.

BUTOH VIDEOS: Hijikata, Kazuo Ohno, Sankaijuku, Youko Ashikawa(Hakutobo),
Hoppo-butoh-ha, Dairakudakan, Kobuzoku Altaic, GooSayTen, etc.
(in a 3 day or longer workshop)

Last year, on 22nd of October, Butoh dancer Yukio Waguri died. We will watch his "Butoh Kaden" video of Butoh-fu (butoh notation) for his memory.





WORKSHOP FEES

A 5 day workshop : 30000yen (5 hours a day).

* The fee does not include accommodations, meals, tranportations.
* Please pay in cash on the first day.
(Refundable only when the workshop is cancelled because of the organizer's reason.)



WORKSHOP VENUE

Mika Takeuchi Butoh Studio "Goo"

[map]


EIWA Building 3rd floor.
Nijuyonken 3-4, Nishi-ku, Sapporo, Hokkaido prefecture, Japan

Sapporo is the capital city of the northernmost Hokkaido prefecture. The New Chitose airport is the nearest airport to Sapporo. It is about a 90 minute flight from Tokyo Haneda airport or Narita airport.
There is a JR train station under the New Chitose airport. It is safe and convenient to Sapporo (about 40 minutes).
From Sapporo JR station, take Nanboku-line subway (north-south line).
Change to Tozai-line (east-west line) at the next subway station "Odori Koen" (Odori park).
Get off at "Niju yonken" subway station of Tozai-line.
Walk along the street for 7-8 minutes to a four-storied building. Check the map.
APPLICATION

Let us know your basic background about butoh,dance,etc. with a brief note
about what you expect in our workshop.

*The maximum number of participant for each workshop is eight .

* Itto Morita/T.Kasai
would like to offer these occasions to deepen your Butoh understanding one step further. Our training consists of the physically oriented body-mind exercises based on our dance/movement psychotherapy activities.

We have accepted many guests from U.S.A, Canada, Mexico,Argentina, Brazil, Australia, U.K., Holland, France, Spain, Denmark, Germany, Austria, Italy, Poland, Greece, Israel, Singapore, Hong Kong, and etc.
We are proud of giving substantial and dense Butoh workshops for years.
Itto Morita and Mika Takeuchi are looking forward to seeing you in Sapporo!



Itto has been performing since 1988
in more than 40 cities
around the world.
: a certified dance therapist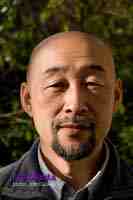 Mika performs elegantly/dreadfully on stage
: a certified dance therapist
having peaceful dance therapy programs
at mental clinics since 1999.