JERUSALEM, THE THIRD HOLY CITY
The third important holy city in the Islamic world next to Makka (Mecca) and Madîna (Medina) is Jerusalem, where the gDome of the Rockh stands. While the Umayyad Dynasty usurped the sovereignty over the Arabic Empire in 661, transferring the capital to Damascus, Syria, the people of the opposing power put up a counter- Khalîfa (Caliph) in 683 and dominated Makka and Madîna until 693.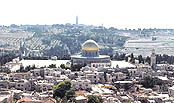 Dome of the Rock on Mount Moriah
In the meantime the Umayyads who had lost the two holy sites sought an equivalent site to them, which was Jerusalem in Palestine. It was the supreme Holy Land for Judaism and Christianity, both of which Muhammad had admitted sibling religions of Islam, and it is written in the gQurfânh (Koran) that the Prophet made the enight journeyf (Isrâ) from Makka to the efurthest mosquef (Jerusalem) from which moreover, written in a legend of gBiography of Muhammadh (Sîra Rasûl Allâh), he made the eascension to heavenf (Mifraj) led by the Angel Gabriel (Jibrîl) and met God (Allâh).
Besides that, since Muslims did not worship in the direction of Makka but Jerusalem in the earliest years of Islam, it made ample sense to make it into the cardinal pilgrimage site instead of deprived Makka and Madîna.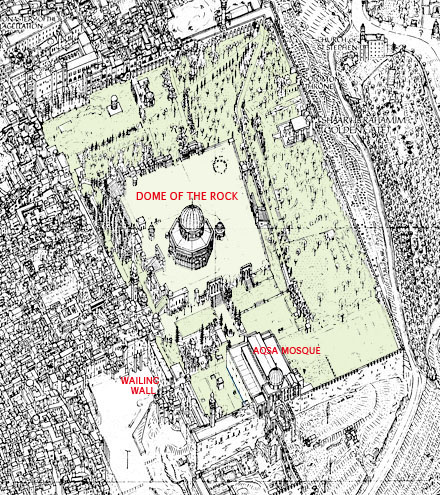 Axonometric Drawing of the Holy Site of Mount Moriah, Jerusalem
(From Dan Bahat, THE ILLUSTRATED ATLAS OF JERUSALEM, 1989, Simon & Schuster)
In the holy city of Jerusalem, there is Mount Moriah being dubbed the eNoble Sanctuaryf (Haram al-Sharîf), which is also referred to as the eTemple Compoundf because of the Solomonfs Temple (Jewish) having existed bygone days.
In the Umayyad period there was an exposed rock head on the Temple Compound. According to tradition, it was on this rock (Sakhra) that Muhammad made a leap to heaven while riding on the celestial horse (Burâq) and that Abraham (Ibrâhîm), the common ancestor of both Jews and Muslims, took his son Isaac to be offered to God as a sacrifice ain remote antiquity.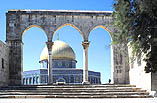 ___


Dome of the Rock through an arcade and its southwest wall
THE FIRST ISLAMIC BUILDING
The 5th Umayyad Khalifa Abd al-Malik (646-705) considered this rock as a relic, commanding to erect a monumental shrine covering this rock as the representative of Islam. It should be an octagon like a Christian martyrfs mausoleum (Martyrium), being also the Islamic edifice corresponding to the Church of the Holy Sepulcher standing on the Hill of Golgotha, where Jesus Christ was crucified.
While the circumambulation around a sanctum is practiced throughout the world, the Islamic one is habitually counterclockwise as opposed to the Indian. The architect of the Dome provided double ambulatories for that purpose around the rock, a wooden dome of 20m in diameter over the rock, and wooden shed roofs on the ambulatories.