sBack to Top Paget@@@@@@@@@@@@@sTo Next Paget
Digital Photo Gallery @hPoem of Mts.YATSUGADAKEh@@'n'm'a'`'r'g'h'q'`@'r''…'ƒ'‰''Œ
Onbashira Festival
Trip of The Sacred,Huge logs in 'Q'O'O'SD
Suwa Grand Shrine Festival has 1,200 years' history.
It is held in every six years, Monkey and Tiger.
People in Suwa were ready for this Monkey year of 2004.
They are very religious and sincerely believe God of Onbashira.
Bad luck, bad weather, and various disasters will come if they mistreat God.
mKamisha-Yamadashin First day of The Festival Apr. 2, 2004.
"Fir Tree lived in the mountain ,Came down to village to be God." Kiyari-song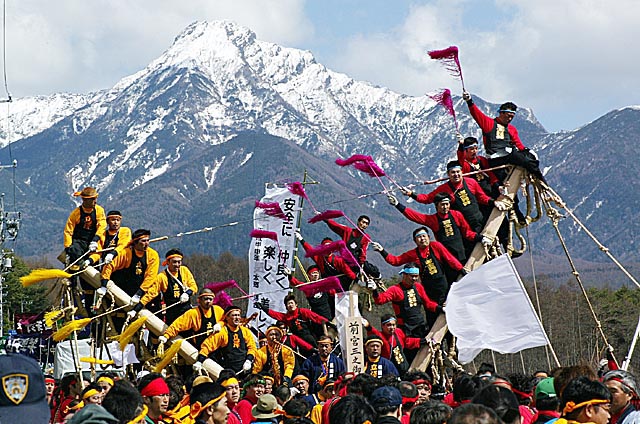 The Onbashira Festival of Suwa Grand Shrine started on Apr. 2,2004.It's rainy in the morning but in the
afternoon, it became Fine and Mt.Amida appeared from cloud.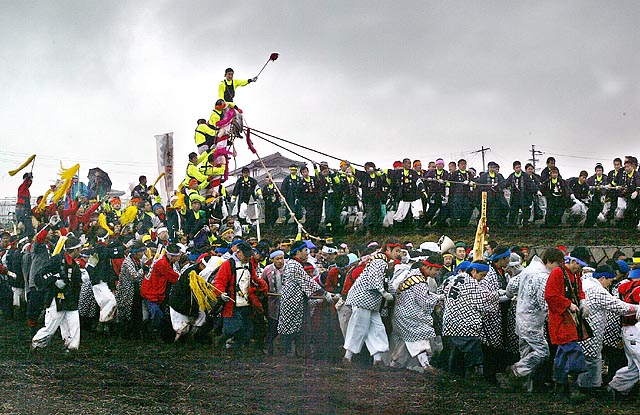 Pulling down the Onbashira in rain All people are wearing Happi under raincoat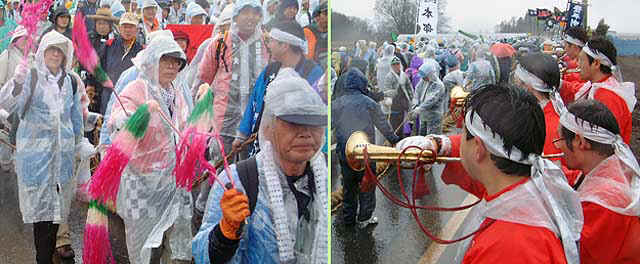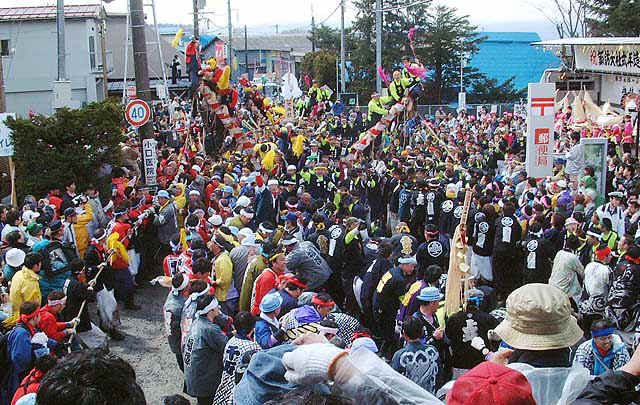 Spectators are watching from upstairs' windows of every house along the street of Anayama.
This is one of the most difficult corners to control the huge log.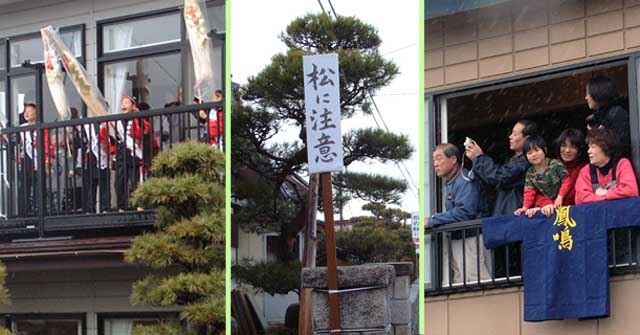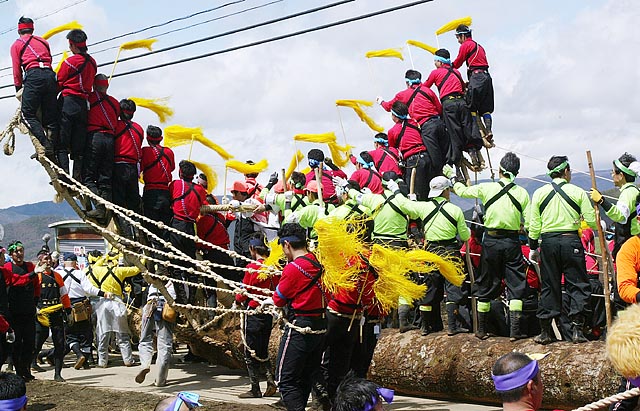 The 3rd of Honmiya is now going down the road. Young people riding proudly on the wood.
They sprinkle lots of water on the asphalt road so they can easily slide the log.

Children are also cheery.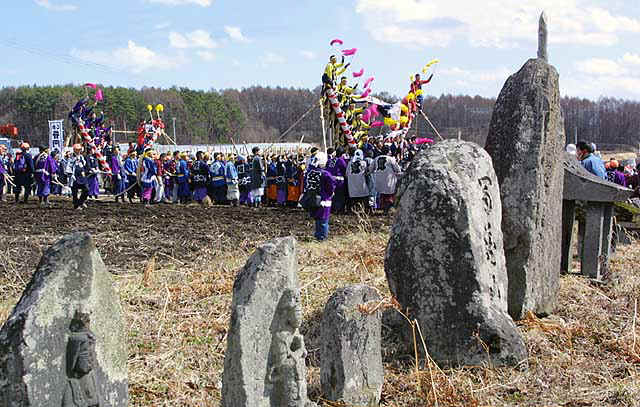 The sky became blue in the afternoon!! The last Onbashira enjoys its proceed with small flags
streaming in spring wind

Cleaning troops follow at the end of the marching line.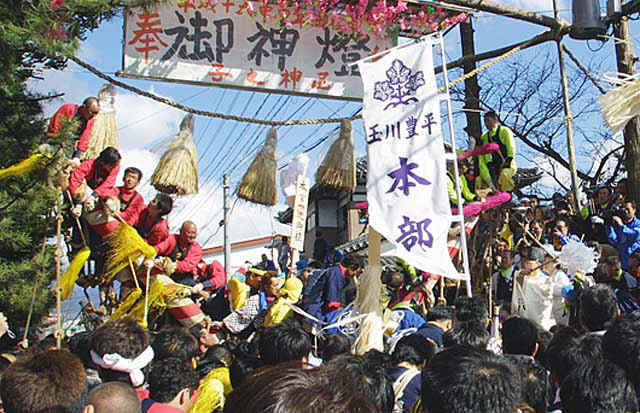 "Ne no Kami"flag cheers up 1st of Honmiya. Only short steps are left for todays program.
.@@@@@@@@@@@@@@@@@@@@@@@@@@@@@@@@@@@@@@@@@@@@@@
The Onbashira Festival started at Tunaokiba. It is the place at the border of
Chino city and Hara mura, 1200meter high from sea level. The sacred logs
should make their parade to Onbashira-yashiki, about 12 kiro meter away.
It is near Ankokuji in Chino city, 750m sea level. 8 sacred logs should make
their parade in order. 1st of Honmiya, 1st of Maemiya, 2nd of Honmiya,
2nd of Maemiya, 3rd of Honmiya,etc. On the way, they meet many difficulties,
narrow lane, steep slope to slide down, cold water stream to cross, etc. @@@@
. At 8 o'clock in the morning of Apr. 2, in stormy weather, the first and the
biggest one , 1st of Honmiya began to move. It was misty because of heavy
rain. Not any mountain@ could be seen on the back.. But at about 11 a.m.
the slight sunshine appeared. At 1 p.m. when the last, 4th of@ Maemiya left
Tunaokiba, Mt. Yatsugatake. appeared from clouds as if she says good-by to
the sacred logs. @@@@@@@@@@@
At about 6:30 p.m. all the logs finished their march and stayed still in order.
The total number of visitors were 50,000, but they say 2000 persons less
than the previous (6 years before) first day.@@@@@@@@@@@@@@@@@@@@@@
@
---
žTo Home Page @@ @žTo Kamisha-Kiotoshi
žTo Kamisha-Kawagoshi žTo Shimosha-Yamadashi@
@@žTo Kamisha-Satobiki @@ @@žTo 98'Onbashira Fest.
žTo Shimosha-Kiotoshi @@@@ž Prelude to The Festival
žTo Shimosha- Satobiki @ž To Japanese edition
žTo Local Onbashira Fest.‡@ žTo Local Onbashira Fest‡A
---
Ver.'P.2 Nov.18,2004.
Copy Right A.hattori 2004.